Flat Top Chains suit beverage and packaging industries.
Press Release Summary: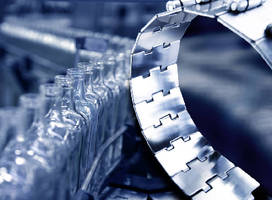 Suited for nearly all conveying tasks that require flat transport surface, Flexon Flat Top Conveyor Chains are available in plastic and stainless steel versions as both linear and curved tracks. Low-contamination materials fulfill hygiene requirements in beverage and packaging industry. Resistant to chemicals, plastic chains can be cleaned with agents that are either unsuitable for metal chains or would require intensive maintenance.
---
Original Press Release:

Flat Top Chains for the Beverages and Packaging Industries - Low-Contamination and Low-Maintenance



Munich, Germany, September 2009. At this year's Drinktec in Munich, Germany, in September 2009, chain manufacturer Iwis Antriebssysteme GmbH (Iwis) has introduced flat top chains for the beverages and packaging industries. The flat top chains, which will be sold under the Flexon brand name, can be used for nearly all conveying tasks that require a flat transport surface. Typical applications include conveying of glass and plastic bottles, cans, cases, barrels and packing drums in bottling and packaging lines.

Flexon flat top chains are available in various plastic and stainless steel versions as both linear and curved tracks. The low-contamination materials fulfil the hygiene requirements in the beverages and packaging industry. The chains have a high quality, finish and flatness. With their exceptionally low friction coefficients they are also very energy efficient. Flexon flat top chains are low-maintenance and have a long service life.

Depending on their application, plastic flat top chains can have certain advantages over stainless steel types. In conveying systems, for example, they generate up to 80 percent less noise. And the plastic elements are up to 40 percent lighter in weight, which boosts their conveying capacity or reduces the required drive power. Because of their better resistance to chemicals, they can be cleaned with agents that are either unsuitable for metal chains or would require intensive maintenance.

Beside synthetic and stainless steel flat top chains Iwis' product portfolio for the beverages and packaging industry includes straight and curved modular belts and conveyor chains for transporting barrels. Suitable chain and deflection wheels round off the line-up. Iwis also develops tailored solutions for customers. With its new, expanded product line-up of conveying solutions Iwis is now a single-source supplier for all drive and material handling applications.

The full product programme of the Iwis group comprises timing drive systems, precision and high-performance roller chains, conveyor chains, maintenance-free and corrosion-resistant chains, power and free conveyor chains, special-purpose conveyor chains and chains for agricultural machinery as well as chain wheels and accessories for machine and plant construction, the packaging, printing and food and beverages industries, material handling systems, and many other industrial applications.

Company information:

Headquartered in Munich, Germany, the Iwis group is a leading manufacturer of precision chain systems for power transmission and product conveying applications.

The Iwis Group comprises three divisions:


Iwis Motorsysteme GmbH & Co KG provides engine timing drives for the automotive industry.


Iwis Antriebssysteme GmbH & Co KG supplies a wide range of precision roller and conveyor chains for industrial applications, including machine and plant construction, material handling systems, the packaging, printing and food industries and other applications.


Iwis Antriebssysteme GmbH, formerly known as Flexon GmbH, specialises in roller, flyer and special-purpose chains as well as chains for agricultural machinery and accessories.

Still run as a family business, now in its fourth generation, Iwis today employs about 1,100 people at its three production sites in Munich, Strakonice in the Czech Republic and the Bavarian town of Landsberg am Lech. With subsidiaries in the United Kingdom and Switzerland and further sites in France, the USA, Brazil and China, the Iwis group has a global presence, supplying customers and partners in more than 45 countries.

Contact in the USA:

iwis drive systems, LLC

Building 100

8266 Zionsville Road

Indianapolis, IN 46268, USA

Tel: 317 821 3539

Fax: 317 821 3569

E-mail: sales@iwisusa.com

Internet: www.iwisusa.com

Contact in Canada:

iwis drive systems, LLC

Mr. Brian Walters

22-20881 87th Avenue

Langley, BC V1M 3X1, Canada

Tel.: 778 298 3622

Fax: 778 298 7219

E-mail: b.walters@iwisusa.com

E-mail: sales@iwisusa.com

Internet: www.iwisusa.com

Contact in Germany:

iwis antriebssysteme GmbH & Co KG

Albert-RoŸhaupter-Str. 53

D-81369 Munich, Germany

Tel.: +49 89 76909 1500

Fax: +49 89 76909 1229

E-mail: sales@iwis.com

Internet: www.iwis.com

Contact for technical questions:

Dr.-Ing. Frank Mitzschke

Konstruktion und Entwicklung

iwis antriebssysteme GmbH & Co. KG

Albert-RoŸhaupter-Strasse 53

D-81369 Munich, Germany

Tel.: +49 89 76909 1601

Fax: + 49 89 76909 49 1601

E-Mail: Frank.Mitzschke@iwis.com

More from Mechanical Components and Assemblies