Flat Panel Monitors feature USB interface for touch screen.
Press Release Summary: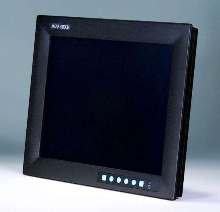 Industrial-grade, 15 in. LCD Series FPM-3150 features NEMA4/IP65 rating, anti-reflective screen with tempered glass, and hard anodized coating to protect panel from abrasion and acid corrosion. Plug-and-Play feature offered by USB speeds configuration of touch screen. In addition to TDK® inverters and 3M® touch screen sensors, monitors use extra brackets to fasten cords with connectors, ensuring cords are firmly attached, minimizing risk of operation termination.
---
Original Press Release:

Advantech Releases Industrial Touch Screen LCD with USB Interface


(Cincinnati, Ohio - 08/02/2005) -- Advantech Corp., Industrial Automation Group introduces a 15 inch LCD industrial flat panel monitor with a USB interface for the touch screen, the FPM-3150G-U. The Plug & Play feature offered by USB makes configuration of the touch screen simpler and faster than with the more common RS-232 interface.

Known for its Plug & Play feature, USB is gaining momentum in use over the RS-232 port. When using an RS-232 port, users need to go through a configuration process and set up connections to other peripherals. USB is Plug & Play, so little or no configuration is necessary. The FPM-3150G-U is ideal for setups that require speed and flexibility by effectively reducing configuration time.

"With more new machinery designs with USB interfaces, the USB port of the FPM-3150G-U is there to meet increasing market demand," says George Liao, HMI product manager at Advantech. "The USB interface is clearly a market trend and we are happy to provide for this need."

The new 15 inch flat panel monitors of the FPM-3150 series are industrial grade with features such as NEMA4/IP65, an anti-reflective screen with tempered glass, and a hard anodized coating to protect the panel from abrasion and acid corrosion.

In addition, Advantech has redesigned the DC-IN power cord, the AC/DC power adapter and USB cable to further ruggedize the FPM-3150 series. With extra brackets to fasten cords with connectors, the power cords are now more firmly attached, reducing the risk of operation termination. Also, by using quality parts like TDK® inverters and 3M® touch screen sensors, Advantech is meeting the demands of customers requiring the most reliable systems.

The FPM-3150G-U has a list price of $1195. Advantech flat panel monitors are available for purchase directly from Advantech or from a North American distributor by visiting eAutomationPro.com.

About Advantech Corporation, Industrial Automation Group
Founded in 1983, the Industrial Automation Group of Advantech Corporation is the only complete PC-based Industrial Automation Solution Manufacturer offering products such as Industrial PCs, Workstations, Panel PCs, Flat Panel Monitors, Heavy Environmental PCs, Customized PCs, Single Board Computers, Data Acquisition & Control Devices and Web-enabled products for a wide array of industries. Drawing on the talents of more than 1,800 people, Advantech operates an extensive sales and marketing network in 16 countries and 35 major cities to deliver fast time-to-market services to our worldwide customers. Today Advantech offers over 700 products and solutions, adding 30 new products each year. US operations for the Industrial Automation Group are based in Cincinnati, OH (877-294-8989). Advantech Corporation, Industrial Automation Group, 1320 Kemper Meadow Drive, Suite 500, Cincinnati, OH 45240. Website for Advantech customers in North America: eAutomationPro.com Email: info@advantech.com

Brandon Rhoten
Advantech Corporation, Industrial Automation Group
(513) 742-8895 x333
media info: http://www.advantech-eautomation.com/media
website: eAutomationPro.com

More from Agricultural & Farming Products