Flat Panel Monitor suits visualization applications.
Press Release Summary: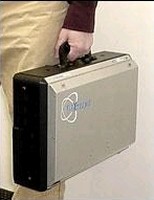 Measuring 1 in. thick, 17 in. Flat Panel Monitor enables multiple-display configuration on NextDimension personal supercomputer, allowing users across all industries to develop and demonstrate intensive graphics applications anywhere, without giving up benefits of dual, triple, or 4-way visualization center. With portable, multiple-display configuration, users can transport every component of their work area anywhere they need to work or demonstrate.
---
Original Press Release:

NextComputing Makes Portable, Multiple-display Visualization Center Possible On NextDimension



Portable, Multiple, Hi-resolution Displays for Visualization Applications on the First FlexTop Computer-NextComputing's NextDimension

For Immediate Release: November 10, 2006, NextComputing, creators of the first FlexTop, personal supercomputer, announced the implementation of a high-resolution, portable, multiple-display visualization center. Last week, the company announced the thinnest, lightest 17" flat panel monitor on the market, at only one inch thick and weighing less than 4 lbs. These new monitors enable the multiple-display configuration on the NextDimension system, allowing users across all industries to develop and demonstrate intensive graphics applications anywhere, without giving up the benefits of a dual, triple, or 4-way visualization center, a convenience which until now has been unavailable.

The portable, multi-display configuration allows users within all graphics/visualization industries to transport every component of their work area-system, monitors, keyboard and mouse-anywhere they need to work or demonstrate. NextComputing sees this portable visualization solution as a vehicle to foster entirely new work paradigms across industries like GIS, Oil/Gas, DCC and CAD. Often, 3D multi-display or panoramic views are necessary for the optimal utilization of high-end graphical applications used in these industries. Requirements can include high resolutions up to 1920 x 1200, high performance CPU capabilities of the system itself, and multiple PCI Express cards to drive the graphics, all of which the NextDimension can provide. For sales and marketing professionals, HD projectors easily connect to the monitor for crystal clear demonstration of intensive graphics applications. Single- or Dual-Core AMD Opteron(TM) processors provide the power boost behind the graphics for an enhanced 3D experience.

"The inherent customizable flexibility of the NextDimension is enhanced by these portable monitors, giving users an unprecedented graphics workstation experience in a portable form factor. When you get right down to it, the displays themselves are the first truly portable monitors available today. They are extremely lightweight, and two of them clip right onto the NextDimension. Effectively, you can have your multi-display visualization center with you anywhere you go," explains Bob Labadini, President and CTO of NextComputing.

A "stationary workstation" configuration is also available, where the system itself is screenless, goes under the desk and one to three of these monitors are placed on the desk. Precious work space real estate is optimized, and you still enjoy the benefit of packing it all up if you need to travel or move to another office, studio or laboratory. The FlexTop's flexible nature, including Open Standards, multiple expansion slots, and extensive memory, allows the system to be used for a multitude of custom applications.

This announcement comes on the tail end of a number of recent announcements. In July, NextComputing announced support for up to 6 external displays, utilizing its HydraGraphics configuration. Shortly thereafter, in September of this year, NextComputing announced the availability of the ATI FireGL(TM) V7350 graphics accelerator board. Just last month, the availability of the NVIDIA Quadro® FX 5500 by PNY Technologies® graphics board was announced. NextComputing is the first computer design company to offer a mobile graphics workstation that incorporates these ultra high end graphics boards. Combine these cards with the portable, multiple display configuration of the NextDimension, and you get portable graphics performance far exceeding what a laptop can provide.

NextComputing is known in the HPC community as an innovator for its engineering design talents, bringing to market the smallest, portable form factors with features capable of the most intensive graphics applications.

www.nextcomputing.com
Contact: Laura P. Cooper
lcooper@nextcomputing.com
sales@nextcomputing.com
Direct phone: 978-314-0924
Corporate phone: 603-886-3874

More from Adhesives & Sealants