Flat Panel Displays offer narrow 18.6 mm bezel.
Press Release Summary: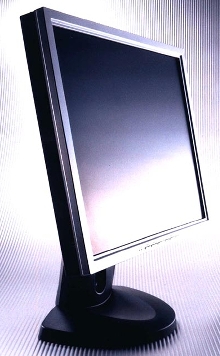 SyncMaster 18 in. 181T and 19 in. 191T analog/digital TFT displays, with removable bases, stack side-by-side or on top of one another for continuous flow of data. Pivot Enabled displays give users full-page viewing capability of 8 1/2 x 11 in. documents without scrolling. Swivel bases instantly switch between portrait and landscape viewing. Displays have 170° viewing angle, 500:1 contrast ratio, response time of less than 25 msec and 1280 x 1024 max resolution.
---
Original Press Release:
Samsung Debuts Dazzling New Large Screen Flat-Panel Displays Targeted To The Financial Community

Space-Saving 18" and 19"Analog/Digital TFT Offer Ultra-Thin Narrow Bezel Perfect for Corporate and Financial Users

Las Vegas, NV -- Samsung, the world's leading manufacturer of computer monitors, introduces two new dual digital and analog flat-panel displays to its award-winning family of advanced TFT monitors. Targeted to financial and corporate markets, the new 18" SyncMaster(TM) 181T and 19" SyncMaster 191T feature a super-narrow bezel that measures just 18.6mm in width. With their removable base, the displays are designed to be stacked side-by-side or on top of one another for a continuous flow of virtually
uninterrupted data, making them the idea for use in stock exchanges, trading floors or anywhere large amounts of data must be presented on multiple screens. Both displays are currently available.

"As the number one TFT and CRT manufacturer, Samsung is devoted to developing monitors that meet the needs of all vertical markets," states Rey Roque, Vice President of Marketing, for Samsung's Digital Information Technology Division, (DITD). "The new SyncMaster 181T and 191T use the design and engineering prowess of Samsung to offer financial and corporate markets a new and unique high-end monitor specifically tailored to display data in the most space-saving way possible."

Samsung's 181T and 191T offer users the option of using either a digital or analog interface for viewing images and text. The Digital Video Interface (DVI) ensures a shaper, cleaner image and a more accurate representation of the original video source. Since video starts out digital in a PC graphics card, the digital output is directly interfaced to the digital input of the LCD panel and always provides the optimum quality image. In addition, no end-user adjustments are required with a digital display, even when randomly changing resolutions.

When used with an analog input, both monitors offers an easy-access, one-button auto calibration system for greater control over the on-screen image allowing for quick proportioning of screen geometry, contrast, brightness and clock-phase. The On Screen Display system features a comprehensive menu of controls, including auto adjustment, color and image size.

The SyncMaster 181T and 191T are Pivot Enabled(TM) and come with a swivel base for instant switching between portrait and landscape viewing. With Pivot, users have full-page viewing capabilities of 8-1/2 x 11 or A4 documents without having to scroll. In addition, both displays are height adjustable, allowing the user to move the screen up or down to best suit individual viewing preferences.

The SyncMaster 191T includes a Patterned Vertical Alignment (PVA) screen, the latest Samsung patented technology advancement in liquid crystal cell structure for improved viewing. Both new displays feature an extra-wide 170 viewing angle, an ultra-
high 500:1 contrast ratio, an extremely fast response time of less than 25 milliseconds and offer a maximum resolution of 1280 x 1024.

Samsung's latest monitors feature a four-stage (On, Stand-by, Suspend, Off) power management system that complies with the VESA DPMS, NUTEK and Environmental Protection Agency's Energy Star standards. Both displays also meet the stringent MPR-II
and TCO-99 low radiation standards.

For easy installation and optimum configuration, Samsung's new T series monitors have built-in Plug and Play capability that conforms to the Video Electronics Standards Association's (VESA) Display Data Channel (DDC) Type 1/2B standards. When used with
the appropriate hardware and software, Plug and Play automatically configures the monitor with the host computer and selects the optimum resolution and refresh rates to achieve
crisp detail, bright colors and razor sharp images.

All SyncMaster displays are backed by Samsung's three-year parts, labor and backlight warranty as well as live, toll-free technical support 24 hours a day, 365 days a year.
More from Packaging Products & Equipment