Flat Panel Controller supports multiple inputs.
Press Release Summary: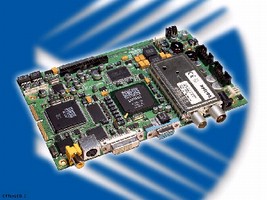 Multimedia and TV flat panel controller, CRTtoLCD-7 offers RGB and DVI inputs as well as composite and S-video inputs for PAL/NTSC signals. JILII30 interface allows control of single and double port LVDS-TFTs up to data width of 2 x 24 bits, while FLEX32 allows control of 18 bit-TTL flat panels. Controller uses OSD keypad for changing settings, and is optimally equipped for video sources such as recorders, DVD players, and cable, satellite, and digital TV.
---
Original Press Release:

Analog-Digital Graphics Converter with Multiple Inputs



Kontron's Hamburg-based Flatpanel Solutions Division has just expanded its aFLAT product range with the CRTtoLCD-7 multimedia and TV flat panel-controller. Besides offering RGB and DVI input, the CRTtoLCD-7 is of particular interest because of its additional composite and S-video inputs for PAL/NTSC signals, which distinguish it from the recently introduced CRTtoLCD-5 assembly, and its comprehensive video source support. It is therefore optimally equipped for video sources such as recorders, DVD players, and cable, satellite, and digital television, which are becoming increasingly important in the b-to-b field. Alongside typical applications such as POS/POI terminals, gaming machines, medical devices, etc., the number of multimedia applications implemented with info terminals or public TV in subway stations, airports, businesses, and gas stations is growing rapidly.

Television signal reception is supported by an optional TV tuner with teletext decoder, which is implemented via an expansion board.

For an optimized display, particularly of rapidly moving images, top-of-the-line technology is used with Adaptive Motion Deinterlacing from Faroudja, who have many years of experience with high-end flat panel televisions in the consumer market. The CRTtoLCD-7 allows the input and display of resolutions up to WUXGA, thanks to the Genesis gm1601 chips. Thus, it also includes HDTV resolutions (e.g. 1080i = 1920 x 1080 or 720p = 1280 x720); HDTV is expected to become very significant in the market by the time of the 2006 World Cup.

The implemented PIP function (Picture-In-Picture) allows simultaneous viewing of two image sources.

In addition, the multimedia functionality of the controller is underscored by the option of processing component and YUV signals via the 15-pin analog RGB input.

The feature set is completed by an integrated audio amplifier and the option to include a remote control (corresponding to the Philips RC5 standard). A feature connector allows the connection of additional modules, for example SCART connectors and the TV-tuner module.

The flat panel controller is available with the FLEX32 (for TTL) or JILI30 (for LVDS) interfaces for TFT. The JILII30 interface allows the control of single and double port LVDS-TFTs up to a data width of 2x24 bits; FLEX32 allows the control of 18 bit-TTL flat panels. Since Kontron already offers a variety of panel cables, complete kits with cables can be offered for most common TFTs. As a rule, it is possible to adapt other types of flat panel on request and at little expense. The flexible architecture of the CRTtoLCD-7 makes it possible to control almost any available TFT panel up to WUXGA resolution.

A single 12 V power supply is sufficient. The power sequencing for the panel and the backlight support is generated on the controller.

Cable connection included in the kit
Since Kontron already offers a variety of panel cables, complete kits with cables can be offered for most common TFTs. As a rule, it is possible to adapt other types of flat panel on request and at low cost.

Convenient keypad for on screen display
An OSD keypad (OSD = On Screen Display) that can be used for changing settings and controlling the special properties of the CRTtoLCD-7 is available for adjustments. OSD configuration can be done very conveniently via the keypad or via the serial interface. An adapter cable that converts the RS232 commands into TTL signals is available as an accessory. Once settings are optimized, they can be saved as a file and called up at any time - even for other panels. The serial OSD control is ideal for use in the production of large series, since it is not necessary to adjust every single controller manually. Individual adjustment of the different flat panels takes place, as is usual for Kontron, via special "panel files", which guarantee an optimal display. Individual firmware adjustments can also be made quickly and conveniently with a special tool. Incidentally, all new controllers in the aFLAT series will have the same look and feel, starting immediately. Control software (Windows OSD) and panel files can be downloaded from kontron-emea.com/flatpanel.

The CRTtoLCD-7 is available in a variety of versions. The flagship is the multimedia version, which also has component inputs. The "slimmed down" versions are designed as optimized successors to the very successful CRTtoLCD-2 and -3, since they are compatible in terms of dimensions, connector locations and functions.

About Kontron Flatpanel Solutions
Kontron's Hamburg-based graphics specialists are responsible for graphics products in the Kontron Group. Overall, Kontron is a market leader for embedded systems; Kontron's graphics specialists are European leaders in graphics boards and controllers for all types of flat screens. For more than twelve years, the company has been marketing and selling graphics solutions, including drivers and cables. Recently the range of products was expanded to include ultra-flat, mobile display PCs, where the PC is mounted directly on the rear side of the panel. In keeping with Kontron's company philosophy, the Hamburg company guarantees that its customers' products are based on cutting-edge technology and offer the highest quality, reliable support, competent consulting, and long-term product availability.

About Kontron
Kontron AG is a worldwide leading manufacturer of embedded computer technology and robust solutions for mobile use. It supplies leading OEMs, system integrators, and application providers in a wide variety of market segments such as data and telecommunications, automation, measurement and control technology, traffic engineering, medical and military technology, as well as aviation and energy. Kontron's goal is to enable customers significantly to reduce their time to market and to create clear competitive advantages through products such as high-performance open computer platforms and systems, single board computers, HMIs, and mobile computers. Kontron employs over 1,900 people worldwide with production facilities in Europe, North America, and the Asia-Pacific region. The company is listed on the German TecDAX 30 with the company symbol "KBC". Kontron is the only company based in Europe which has premier status in the Intel® Communications Alliance and, thus, has early access to leading Intel technologies and preferred engineering support.

For more information about Kontron, visit the company's website: kontron-emea.com


More from Packaging Products & Equipment