Flat Panel Controller converts RGB and DVI input.
Press Release Summary: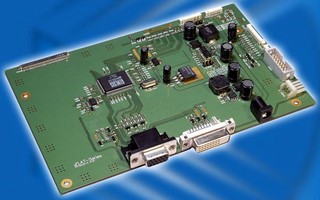 Without requiring a PCI or AGP slot, RoHS-compliant CRTtoLCD-5 assembly converts analog RGB or DVI input signals into digital TTL or LVDS signals for TFTs. Integrated Genesis gm5621 chip provides resolutions up to SXGA. Able to process input resolutions up to UXGA and scale image to appropriate size for panel, assembly is available with FLEX32 interface for control of 18-bit TTL flat panels or JILI30 interface for control of single- and dual-port LVDS TFTs up to data width of 2 x 24 bit.
---
Original Press Release:


CRTtoLCD-5 Multimedia Flat Panel Controller with RGB and DVI Input




Lead-free analog/digital graphics converter

Hamburg, Germany, October 5, 2005 - Kontron expands its range of multimedia flat panel controller assemblies with the introduction of the RoHS-compliant CRTtoLCD-5 controller assembly, which converts analog RGB or DVI input signals into digital TTL or LVDS signals for TFTs. Applications include POS and POI terminals, gaming machines, and medical devices whose central computer provides analog VGA or DVI graphics output, and which are to be connected to flat panel displays. This is the scenario for most embedded CPU assemblies and the CRTtoLCD-5 graphics controller makes it easier for users to integrate attractive and increasingly economical TFTs into their systems. The controller can be used in any system because it does not require a PCI or AGP slot.

The CRTtoLCD-5 multimedia flat panel controller assembly with integrated Genesis gm5621 chip provides resolutions up to SXGA. It can process input resolutions up to UXGA and scales the image to the appropriate size for the panel. The new CRTtoLCD-5 assembly is particularly notable for the improvement in its scaling algorithms compared to its predecessors, the shared power supply for the panel and controller provided by two board-specific PSUs, and a new 10-pin, high-power connector for backlight support (up to 4A), which is found on the version for LVDS panels. Also, the cost-performance ratio, which is usually excellent for CRTtoLCD boards, has been improved even further. The board is, of course, footprint compatible with the previous CRTtoLCD-1, -2, and -3, making upgrades within the same product series very simple.

The flat panel controller is available with FLEX32 interfaces (for TTL) or JILI output (for LVDS) to the TFT. The JILI30 interface allows the control of single and dual port LVDS TFTs up to a data width of 2 x 24 bit, while FLEX32 allows the control of 18-bit TTL flat panels. A single 12 V power supply is plenty. The controller manages the power sequencing for the panel and the backlight support.

Cables included in the kit
As Kontron already offers a wide variety of panel cables, complete kits including cables can now be offered for most common TFTs. It is generally possible to adapt to other flat panel types on request and with minor expense.

Convenient keypad for on-screen display
An OSD (On Screen Display) keypad that can be used for changing settings and controlling the special properties of the CRTtoLCD-5 is available. The OSD configuration can be handled very easily via the keypad, or via the serial interface from a PC running Windows. An adapter cable that converts the RS232 commands into TTL signals is available as an accessory. Once settings are optimized, they can be saved as a file and called up at any time - even for other panels. The serial OSD control is ideal for use in mass production, as it makes it unnecessary to adjust each controller individually. The adjustment of the each flat panel is done, as is usual for Kontron, via special "panel files", which guarantee an optimal display. Individual firmware adjustments can also be made quickly and conveniently with a special tool. Control software (Windows OSD) and panel files can be downloaded from kontron-emea.com/flatpanel.

About Kontron Flat Panel Solutions
Kontron's graphics specialists in Hamburg are responsible for graphics products within the Kontron Group. Kontron is the market leader for embedded systems, and Kontron graphics specialists are the leaders in Europe for graphics boards and controllers for any type of flat screen. For more than twelve years, the company has developed, marketed, and sold graphics solutions, along with drivers and cables. Recently, the product range was expanded to include ultra-flat mobile display PCs where the PC is mounted directly on the back of the panel. In accordance with Kontron's company philosophy, the Hamburg firm guarantees its customers products based on cutting-edge technologies, the highest quality, reliable support, competent advice, and long-term product availability.

About Kontron:
A global leader in embedded computer technology and mobile rugged solutions, Kontron supplies a diversified customer base of OEMs, system integrators and application providers in the communications, automation, test and measurement, transportation, medical, military, aerospace and energy markets. The company helps its customers to considerably reduce their time-to-market and to gain a competitive advantage with products including high-performance open computer platforms and systems, single board computers, human-machine interfaces and mobile rugged computers. Kontron employs more than 1,900 people worldwide and has manufacturing facilities in Europe, North America and Asia Pacific. The company is listed on the German TecDAX 30 stock exchange under the symbol "KBC". Kontron is the only European based Premier member in the Intel ® Communications Alliance which means earliest access to leading-edge Intel technologies and privileged engineering support.

For additional information on Kontron, please visit: kontron-emea.com.


More from Printing & Duplicating Equipment