Flat Panel Console Kit offers space-saving monitor.
Press Release Summary: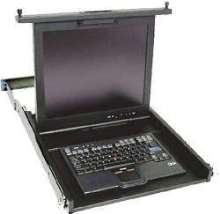 Model 7316-TF3 features 17 in., flat panel color monitor that mounts in 19 in. rack draw, occupying only 1U space. Using TFT LCD technology, monitor features 1280 x 1024 display resolution without glare of most CRTs. Unit supports NetBAY LCM Switch that allows users single-point access and control of up to 64 servers from single console. Switch has maximum video resolution of 1600 x 1280 and mounts in 1U drawer behind 7316-TF3 monitor.
---
Original Press Release:

IBM 7316-TF3 Flat Panel Console Kit Fits Slim Monitor in 1U Rack Space; NetBAY LCM Switch Supports Up to 64 Servers from Single Console


Overview
In situations where space is constrained, the IBM 7316-TF3 Flat
Panel Console Kit offers a space-saving monitor that occupies
only 1U (1.75 inches) in a rack. The bright, 17-inch (337.9 mm x 270.3 mm) flat panel color monitor mounts in a 19-inch standard rack drawer, using the flat panel monitor rack-mount kit.

Using thin film transistor (TFT) LCD technology, the monitor features 1280 x 1024 display resolution without the glare of most CRTs.

The Model TF3 replaces the Model TF2.

The IBM Travel Keyboard is a mandatory feature for the 7316-TF3; it mounts in the 7316-TF3 keyboard tray.

The 7316-TF3 also supports the NetBAY LCM Switch (#4202) that
allows users single-point access and control of up to 64 servers from a single console. The NetBAY LCM Switch has a maximum video resolution of 1600 x 1280 and mounts in a 1U drawer behind the 7316-TF3 monitor.

Key prerequisites
The 7316-TF3 is available on the following pSeries® and RS/6000®
systems:
o pSeries 610 Model 6C1
o pSeries 615 Model 6C3
o pSeries 630 Model 6C4
o pSeries 640 Model B80
o pSeries 650 Model 6M2
o pSeries 655 Model 651
o pSeries 660 Models 6M1/6H1/6H0
o pSeries 670 Model 671
o pSeries 680 Model S85
o pSeries 690 Model 681
o RS/6000 7046-B50
o RS/6000 7025-H70
o RS/6000 7026-H70
o RS/6000 7026-H80
o RS/6000 7026-M80
o RS/6000 7017-S80
o RS/6000 7040-61D
o RS/6000 7311-D10/D20
o RS/6000 7315-CR2

Planned availability date
May 7, 2004

At a glance
The IBM 7316-TF3 Flat Panel Console Kit offers:
o Slim, sleek, lightweight monitor design that occupies only 1U
(1.75 inches) in a 19-inch standard rack
o A 17-inch, flat screen TFT monitor with truly accurate images and virtually no distortion
o Ability to mount the IBM Travel Keyboard in the 7316-TF3 rack
keyboard tray
o Support for the NetBAY LCM Switch

The NetBAY LCM Switch offers:
o Access to and control of as many as 64 servers
o Support of both USB and PS/2â server-side keyboard and mouse connections

For ordering, contact:
Your IBM representative, an IBM Business Partner, or the Americas Call Centers at 800-IBM-CALL Reference: RE001

More from Architectural & Civil Engineering Products