Flat Dies withstand exposure to HCl.
Press Release Summary: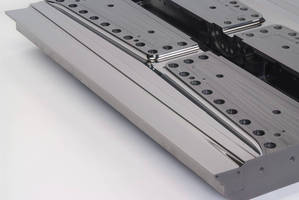 Flat dies with DuraCoat(TM) coating withstand most attacks from corrosive hydrochloric acid (HCl) generated in course of extruding PVC. Coating forms thin film on steel surface of die that has no effect on features machined into flow surfaces. Solution is insolubile in most acids and bases, and also withstands burn-outs without damage.
---
Original Press Release:

New Coating for Flat Dies Withstands Hydrochloric Acid Attack from PVC Polymer



DuraCoat(TM) Benefits Processors of Vinyl Foam, Film, Sheet, and Post-Formed Siding

CHICAGO, June 22, 2009: A new surface coating now available on flat dies from Extrusion Dies Industries, LLC (EDI) withstands most attacks from the corrosive hydrochloric acid (HCl) generated in the course of extruding PVC, the company announced today at NPE2009 (Booth N85007).

Called DuraCoat(TM), the coating is inert when exposed to harsh chemicals, according to Gary D. Oliver, vice president of technology. While EDI is exploring possible uses with a range of other corrosive plastics, it is recommending DuraCoat for dies used to produce PVC foam, film, and sheet. The thermal degradation of PVC caused by heat and shear during extrusion generates HCl byproduct that can inflict extensive damage to dies with conventional surfaces.

"This new coating forms an extremely thin film on the steel surface of the die that has no effect on even the most intricate features machined into flow surfaces," said Oliver. "The low friction coefficient of the coating provides improved slip release in comparison with that of standard chrome plating."

DuraCoat exhibits exceptional hardness, very high melting and oxidation temperatures, and insolubility in most acids and bases, Oliver added.

The coating has been successfully applied to tooling in the injection molding industry and has already been used by EDI customers producing vinyl residential siding (post-formed from sheet) and foams, according to Oliver. "On two occasions, one customer mistakenly processed the PVC at a very slow rate, and the extended residence time for the polymer caused enough burn and HCl out-gassing to ruin standard chrome plating and make it necessary to rework the die," he said. "But the die in this case was DuraCoat-coated and withstood both burn-outs without damage."

The new coating is applied to the entire die, including polished flow surfaces.

Information about DuraCoat is available from any local EDI representative.

EXTRUSION DIES INDUSTRIES, LLC is a leading international supplier of flat dies for sheet, film, extrusion coating, fluid coating, and pelletizing. The company designs and manufactures dies, feedblocks, deckling systems, vacuum boxes, and related equipment. Its subsidiaries include EDI GmbH in Reichshof-Wehnrath, Germany, and EDI China in Shanghai. In the U.S.A., Germany, and China, EDI operates facilities dedicated to reworking its own dies and those built by other suppliers, and it has licensed a fourth rework facility in Japan. Headquartered in Chippewa Falls, Wisconsin, U.S.A., EDI is focused on supplying the global market.

Visit www.extrusiondies.com and www.reworkdies.com. E-mail: sales@extrusiondies.com.

Related