Power Transmission and Timing Belts
Flat Belts feature endless design with no welds.
Press Release Summary: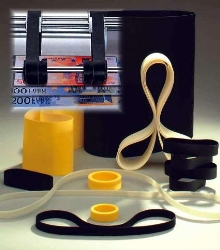 Available with or without carcass reinforcement, Hytrel® Flat Belts are flexible at temperatures as low as -40°F. Themoelastic polyester elastomer is abrasion- and tear- resistant with long-term fatigue resistance. It also offers resistance to microbes, weather, mineral oils, grease, water, alcohols, and glycols. Applications include drives, conveyors, vacuums, food processing, credit card transfer, and ATM bill ejectors.
---
Original Press Release:

Truly Endless Hytrel® Flat Belts


Offering the Superior Performance Characteristics Design Engineers have been waiting for!

Hytrel® is a thermoplastic polyester elastomer of high durability and flexibility. Hytrel® belts are available with or without carcass reinforcement.

General Hytrel® Belt Applications
Many industries prefer to use Hytrel® belts, i.e. as Drive Belts, Conveyor Belts, Weighing Belts, Process Belts, Vacuum Belts, Vacuum Timing Belts, Thermo Belts, Food Processing Belts, ATM-Bill Ejector Belts (see picture), and Credit Card Transfer Belts.

Reinforced Hytrel® belts have unique characteristics and are used (but not limited to) the following:
o Drive belts for low temperatures
o Transversally stiff belts (also applicable for edge guiding)
o Machine belts for paper conveying
o Machine belts for printing industry
o Conveying belts for personal hygiene industry
o Vacuum conveyors (perforations as per customer requirements, hole diameters from 1.5 mm up to 12 mm)

Hytrel® belts without reinforcement have unique characteristics and are used (but not limited to) the following:
o Used with fixed shaft centers
o Used as matched sets
o Excellent running properties
o Paper and receipt conveying (ATMs)
o Check sorting
o Credit card feeder
o Vacuum conveyors (perforations as per customer requirements, hole diameters from 1.5 mm up to 12 mm)
o Weighing belts

Properties of Hytrel®:
o abrasion resistant
o very good long term fatigue resistance
o flexible at temperatures as low as - 40°C (- 40°F)
o good tear resistance
o minor loss of tension during operation
o very good resistance to microbes and weather
o very good resistance to mineral oils, grease, water, alcohols and glycols

Hytrel® belts are available in various combinations to address shore hardness, temperature range, antistatic properties, coefficients of friction, shaft loads, and color and surface properties.

Remember Hytrel® endless woven or non-reinforced Hytrel® flat belts are manufactured endless without any weld or connecting area for outstanding functioning and running performance.

Please contact BRECOflex Applications Engineering for free assistance by calling 1 (888) 463-1400 or request information from our website at www.brecoflex.com.

o Free Engineering Support

Michele La Valle
Sales and Marketing
BRECOflex CO., L.L.C.
PO Box 829
222 Industrial Way West
Eatontown, NJ 07724
Phone: (732) 460-9500 x221
Fax: (732) 542-6725
e-mail: mlavalle@brecoflex.com

More from Mechanical Power Transmission