Flash Storage Array (4U) leverages up to 32 MX6300 NVMe SSDs.
Press Release Summary: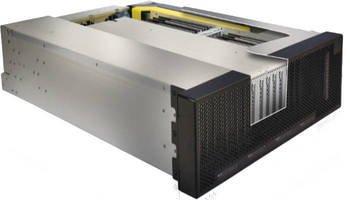 Featuring fully redundant, hot serviceable configuration with 4 independent, 1U servers attached to PCIe® expansion chassis, FSAe-4 accommodates 32 Mangstor MX6300 NVMe SSDs for up to 172 TB of shared Flash storage. Expansion system can support Ethernet (RoCE) or Infiniband fabrics and network speeds up to 100 Gbps. Total I/O bandwidth of 40+ GBps for all mixes of reads and writes meets needs of high-speed data recording and processing for diverse HPC applications.
---
Original Press Release:

One Stop Systems Introduces the FSAe-4 with Mangstor MX6300 NVMe SSDs



See Mangstor products in Booth #601 at FMS 2016

Up to 172TB with 32 Mangstor MX6300 NVMe SSDs

The MX6300 Series is the 'fastest NVMe SSD on the market' (Tom's IT Pro)



Flash Memory Summit, Santa Clara Convention Center -- One Stop Systems, Inc. (OSS), the leader in PCI Express® (PCIe®) expansion technology, introduces the 4U Flash Storage Array with Mangstor MX6300 NVMe SSDs. OSS' FSAe-4 can accommodate 32 of the MX6300 providing up to 172TB of shared Flash storage. The FSAe-4 is a fully redundant, hot serviceable configuration with 4 independent 1U servers attached to the PCIe expansion chassis. The expansion system can support Ethernet (RoCE) or Infiniband fabrics and network speeds up to 100Gb/s.



One Stop Systems FSAe-4

The 8U solution, with four servers attached to the FSAe-4 chassis provides a total I/O bandwidth of over 40GB/s for all

mixes of reads and writes. Measurements performed in Mangstor labs using the 2016 Technical Preview of Storage Spaces Direct demonstrated total bandwidth of 45GB/s Random Read, 44GB/s Random Write and 42GB/s mixed Random Read/Write. The FSAe-4 with Mangstor MX6300 SSDs provides 172TB of very fast and powerful PCIe NVMe flash storage, making it the ideal platform for high-speed data recording and processing for a variety of HPC applications.



The MX6300 NVMe-based SSDs are available in 2.7TB and 5.4TB useable capacities packaged in a half-height/half-length (HHHL) PCIe add-in-card format using enterprise Multi-Level Cell (eMLC) NAND flash. With industry-leading performance, this solution is driven by Mangstor's innovative offload architecture using a highly efficient 100-core processor. The processor, located on the SSD, offloads all flash management and workload acceleration operations to the SSD reducing system power while freeing host resources for application processing.



"One Stop Systems' expertise in PCI Express expansion and custom systems allows our customers to use the newest and fastest flash without having to replace all of their IT infrastructure," said Steve Cooper, OSS CEO. "With Mangstor's expertise in networking and storage interfaces, and in high performance software, OSS can provide our customers with a powerful option for enterprise class flash memory. OSS is one of the only companies currently producing expansion products as dense as the FSA. By combining our PCIe expertise and Mangstor's flash memory expertise, we have created a state-of-the-art storage array that can provide a large amount of shared NVMe SSD capacity and performance for HPC applications."



Mangstor MX6300



"The combination of Mangstor's industry leading NVMe flash storage technology inside of the OSS platform provides our customers with a fully redundant, highly serviceable solution that brings unprecedented performance to customer applications," said Ashwin Kamath, SVP Engineering for Mangstor Inc. "In addition to being a great solution for NVMe over Fabric storage, the platform is in active customer testing as a Windows Storage Spaces server where its significant increase in performance per server reduces application licensing and hardware acquisition costs."



Visitors to the Flash Memory Summit find details of the complete solution in the Mangstor Booth #601. The FSAe-4 with up to 32 Mangstor M6300 NVMe SSDs is available immediately. OSS sales engineers are available to assist you in designing the right system for your requirements.



About One Stop Systems

One Stop Systems designs and manufacturers supercomputers for high performance computing (HPC) applications such as deep learning, oil and gas exploration, financial trading, defense and any other applications that require the fastest and most efficient data processing. By utilizing the power of the latest GPU cards and flash storage cards, our systems stay on the cutting edge of the latest technologies. Our equipment also costs less than other solutions and we occupy much less rack space in the data center. We have a reputation as innovators using the very latest technology and design equipment to operate with the highest efficiency. For more information, visit www.onestopsystems.com.



About Mangstor

Mangstor Inc., founded in 2012 and headquartered in Austin, Texas, is a leading developer of next generation non-volatile memory storage products optimized for low latency, high performance applications. Its product portfolio includes MX-Series PCIe NVMe SSDs, NX-Series NVMf storage arrays, and TITAN NVMf storage target software. First presented at last year's Flash Memory Summit, the NX6320 array with TITAN software earned a Best of Show award as the Most Innovative Flash Memory Technology, and the first available storage array solution for NVMf.



*PCI Express and PCIe are trademarks of PCI-SIG



One Stop Systems Media Contact

Katie Garrison

Marketing Communications Specialist

kgarrison@onestopsystems.com

(760) 745-9883



Mangstor Media Contact

Scott Harlin

Director of Marketing Communications

sharlin@mangstor.com

(714) 619-1795

More from Fluid & Gas Flow Equipment