Flash Programming System aids production of XC2000-based designs.
Press Release Summary: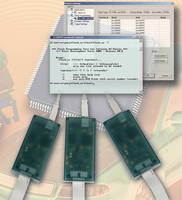 Suited for end-of-line integration into production environments, SpeedFlash-XC erases and programs Flash, verifies Flash content, and if necessary protects Flash on products utilizing Infineon 16-bit microcontroller-based design. System connects up to 8 probes to needle bed production equipment via JTAG or DAP, and obtains production data by connecting probes to production computer via USB. System supports complete family of Infineon XC66/XC2000/XE166 microcontroller derivatives.
---
Original Press Release:

Fast and Secure Production of XC2000-Based Designs



Hitex Development Tools has launched SpeedFlash-XC, a programming solution addressing users who will start the production of their Infineon 16-bit microcontroller-based design.

SpeedFlash-XC can be integrated easily in the production environment (end-of-line). The system allows to connect up to 8 SpeedFlash-XC probes to a needle bed production equipment via JTAG or DAP. To obtain the production data the probes are connected to the production computer via USB.

The SpeedFlash-XC software can be used in batch operation using the command line mode or via a DLL that can be integrated in a supervision production flow environment. The SpeedFlash-XC's production cycle typically consists of the following steps: contact product, erase Flash, program Flash, verify Flash content and if necessary protect Flash. Also a complete recording of the production flow for production documentation is provided.

Since production speed matters particularly with regard to high quantities the production cycle is optimized so that cycle times of approximately 3 seconds can be achieved with up to 8 parallel produced microcontrollers (by programming 128KB). SpeedFlash-XC supports the complete family of Infineon's XC66/XC2000/XE166 microcontroller derivatives.

SpeedFlash-XC can be ordered directly via the Hitex-Webshop at www.ehitex.de.

For more details, please contact:

USA

Hitex Development Tools

2062 Business Center Drive, Suite 230

Irvine, CA 92612

Internet: www.hitex.com

Customer Inquiries

Phone: (800)-45HITEX

Phone: +1/949/86 30 320

Fax: +1/949/86 30 331

E-mail: sales@hitex.com

Germany

Hitex Development Tools

Greschbachstr. 12

D-76229 Karlsruhe, Germany

Internet: http://www.hitex.de/www.hitex.com

Customer Inquiries

Christiane Simon

Phone: +49/721/9628-177

Fax: +49/721/9628-149

E-mail: sales@hitex.de

Europe

Hitex Development Tools

Greschbachstr. 12

D-76229 Karlsruhe, Germany

Internet: http://www.hitex.de/www.hitex.com

Customer Inquiries

International Sales

Phone: +49/721/9628-0

Fax: +49/721/9628-149

E-mail: sales@hitex.de

More from Software