Flash Memory Device operates from -55 to +210°C.
Press Release Summary: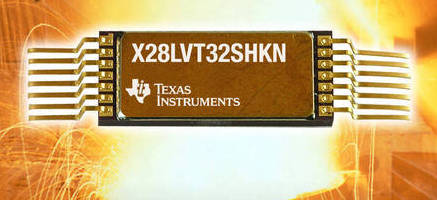 Featuring 4 MB capacity, Model SM28VLT32-HT is guaranteed for at least 1,000 hours of operating life in harsh environment applications, including oil/gas exploration, heavy industry, and avionics. Nonvolatile Flash memory device eliminates need for external parts, and cuts development, testing, and qualification time. Housed in 8 x 25 mm ceramic flat pack, SM28VLT32-HT allows small package integration into multi-chip modules for systems with limited board space.
---
Original Press Release:

TI Unveils Industry's first 4-MB Flash Memory Device for Harsh Environments



DALLAS, -- Texas Instruments Incorporated (TI) (NASDAQ: TXN) today introduced the industry's first high-temperature, nonvolatile Flash memory device for harsh environments. The SM28VLT32-HT has an operational capacity of 4 MB and eliminates the need for costly up-screening and qualification testing of industrial-grade components for temperature ranges outside data sheet specifications. The device allows data logging at extreme temperatures and is guaranteed for at least 1,000 hours of operating life in harsh environment applications, including oil and gas exploration, heavy industrial, and avionics. For more information or to order samples and EVMs, see www.ti.com/sm28vlt32-ht-pr.



Key features and benefits of the SM28VLT32-HT:



--  Widest temperature range: Only nonvolatile Flash memory device qualified to work in temperatures ranging from -55 C to +210 C.

--  High reliability: Tested across the entire temperature range to provide robust read/write operation over the device's operating life.

--  Reduced design time: Eliminates the need for external parts allowing manufacturers to develop applications for harsh environments quickly and safely, and cuts development, testing and qualification time by six months.

--  Small, ruggedized package:  Available in either a ceramic flat pack or in Known Good Die (KGD), the SM28VLT32-HT allows small package integration into multi-chip modules for systems with limited board space.

--  Serial interface: SPI interface simplifies design and packaging, and reduces pin count.



Packaging, availability and pricing

The SM28VLT32-HT is sampling now in an 8-mm x 25-mm ceramic flat pack, with KGD package options and volume quantities available in 1Q13.



Tools and support

Built on a ruggedized board to allow for easier evaluation at higher temperatures, the HTFLASHEVM evaluation module is available now.



Support is available for customers on the High Reliability Forum in the TI E2E(TM) Community, where engineers can ask questions and get answers from TI experts.



Complementary portfolio for high reliability The SM28VLT32-HT complements TI's full portfolio of analog and embedded processing products for high-temperature, high-reliability applications, such as the SM470R1B1M-HT ARM7TDMI(TM) Microcontroller and the SM320F28335-HT Delfino(TM) Digital Signal Controller.



Find out more about TI'shigh-temperature portfolio:

--  Purchase a sample of the SM28VLT32-HT: www.ti.com/sm28vlt32-ht-sample-pr

--  Purchase the HTFLASHEVM evaluation module: www.ti.com/sm28vlt32-ht-evm-pr

--  Download the datasheet: www.ti.com/sm28vlt32-ht-ds-pr

--  Explore TI's full portfolio of high-temperature ICs and related system block diagrams: www.ti.com/hightemp-pr

--  Download TI's High-Temperature Guide: www.ti.com/hightempguide-pr



About high-reliability and high-temperature components from TI Customers count on TI's high-reliability expertise and the industry's broadest portfolio of analog and embedded processing products to provide complete semiconductor solutions and value-added services for challenging or extreme environments in industrial, space, aerospace, defense, medical and consumer markets. TI offers solutions and services for extended temperature ranges for -55 C up to 220 C, radiation hardened designs, baseline control, extended product life cycles, obsolescence mitigation, quality conformance to military standards, ITAR flow support and in-house process technology. TI's high-reliability packaging capabilities include ceramic, plastic and Known Good Die (KGD) wafer solutions. More at www.ti.com/hirel



About Texas Instruments

Texas Instruments semiconductor innovations help 90,000 customers unlock the possibilities of the world as it could be - smarter, safer, greener, healthier and more fun.  Our commitment to building a better future is ingrained in everything we do - from the responsible manufacturing of our semiconductors, to caring for our employees, to giving back inside our communities.  This is just the beginning of our story.  Learn more at www.ti.com



Trademarks

TI E2E is a trademark of Texas Instruments. All registered trademarks and other trademarks belong to their respective owners.



CONTACT: Lacy Mezger, Texas Instruments, +1-214-479-3427, lmezger@ti.com



Web Site: www.ti.com

More from Software