Flash MCUs feature built-in consumer electronic controller.
Press Release Summary: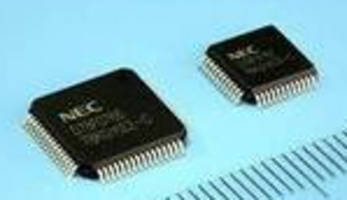 Series 78K0/KE2-C (64-pin) and 78K0/KC2-C (48-pin) are comprised of six 8-bit All Flash(TM) MCUs that featuring built-in consumer electronic control (CEC) and embedded flash memory, enabling interdependent control of digital AV applications. Products facilitate system design via simultaneous processing of CEC and remote control signals. On-chip CEC controller enables CPU to remain de-activated when system is powered off in standby mode, resulting in standby current of ~10 µA.
---
Original Press Release:

On-Chip CEC Circuits Cut Standby Power Consumption by 99.8%



KAWASAKI, Japan, DUESSELDORF, Germany

78K0/KE2-C, 78K0/KC2-C
NEC Electronics (TSE 6723) today announced the availability of six new 8-bit All Flash(TM) microcontrollers (MCUs) with built-in CEC (consumer electronic control) controller and embedded flash memory. The new products enable interdependent control of digital audio/video (AV) applications such as digital TVs and Blu-rayTM disc players, and include three 48-pin variants, named 78K0/KC2-C and three 64-pin variants, named 78K0/KE2-C.

The new chips target the rapidly growing digital AV market. They are designed for use in devices such as flat-panel TVs and Blu-ray disc players.

NEC Electronics expects annual sales of flat-panel TVs and Blu-ray disc players to increase in the mid-term, by 17%, reaching 200 million units by 2012, and by 58%, reaching 35 million units by 2012, respectively.

Reducing power consumption is important both to meet the growing consumer demand for environmentally friendly products and to comply with environmental regulations. In the European Union, PCs, digital AV equipments and other electronic devices will be required to consume no more than 1 to 2 watts in standby mode starting from January 2010.

Many AV devices support the High-Definition Multimedia Interface (HDMI), a standard interface that allows digital AV devices to exchange audio, video, and control signals through a single cable. High-end devices will also support CEC, which promises to control AV components that support the HDMI standard. For example, when a user presses the playback button on a Blu-ray disc player, the disc player can automatically turn on a digital TV and display the playback picture via the CEC interface.

Until now, system designers needed to use their custom software to ensure connectivity between the system and multiple AV components. In this method, a host CPU must be powered on and running in order to monitor the state of the device and wait for CEC and remote control signals.

NEC Electronics' new MCUs with on-chip CEC controllers allow the CPU to be powered off during standby mode and speed up CEC and HDMI certification process while reducing power consumption and the need to develop custom software.

The main features of the new MCUs as follows.


(1) Reduced operating power and system cost with built-in CEC controller
NEC Electronics' new MCUs with on-chip CEC controller enable signal processing to be performed in hardware, which simplifies software processing and conserves memory utilization, peripheral functions, and CPU resources. Through these improvements, when the system is powered off in standby mode, the CPU remains de-activated, enabling the standby current to be lowered to approximately 10 µA, which is only 0.2 percent of the company's previous products.

(2) Enhanced system operability
Unlike conventional offerings that require separate software for CEC controller, NEC Electronics' new MCUs eases system design complexity through simultaneous processing of CEC and remote control signals, supported by on-chip CEC controller and remote control receiver.

(3) Comprehensive lineup of development tools
NEC Electronics provides wide variety of development tools along with the new MCUs, including evaluation boards and on-chip debuggers. The new MCUs also support "CEC Viewer" software the system designers can use to simulate sample programs.

NEC Electronics believes these new MCUs can help designers meet the demand for environmentally-friendly products, enhance the user experience, and ease the system design of AV applications of home entertainment and intends to further expand its lineup of CEC MCUs for the digital AV market.

Pricing and availability
Samples of the new MCUs will be available starting from November 2009. Pricing varies depending on memory capacity, package, and number of pins. For example, 78K0/KE2-C MCU with 60 KB of Flash memory and 3 KB of RAM equipped on a QFP package with 64-pins is priced at U.S. $ 4 per unit. Mass production of these new products is scheduled to begin in June 2010, and is expected to reach a monthly production of 2,000,000 units by September 2010. More information about NEC Electronics' extensive MCU product offerings can be found at here

(Pricing and availability are subject to change without notice.)

Please refer to the separate sheet for the main specifications of the new MCUs.

About NEC Electronics
NEC Electronics Corporation (TSE: 6723) specializes in semiconductor products encompassing advanced technology solutions for the high-end computing and broadband networking markets; system solutions for the mobile handset, PC peripheral, automotive and digital consumer markets; and multi-market solutions for a wide range of customer applications. NEC Electronics Corporation has subsidiaries worldwide including NEC Electronics America, Inc. and NEC Electronics (Europe) GmbH. More information about NEC Electronics worldwide can be found at www.necel.com.

More from Agricultural & Farming Products