Flash LED Driver configures 128 brightness levels.
Press Release Summary: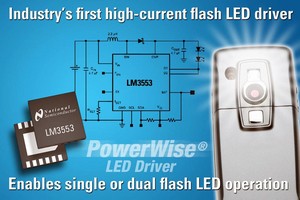 Model LM3553 enables dual LED operation for camera flash in portable multimedia. Flash driver is fixed frequency dc/dc converter with 2 regulated current sinks and drives loads up to 1.2 A. It includes adjustable over voltage protection circuitry which allows drive of 2 high current LEDs in series configuration. Features include time-out protection, internal soft-start, and fast switching frequency. Configuration is achieved via I2C compatible interface.
---
Original Press Release:

National Semiconductor Introduces Industry's First High-Current Flash LED Driver with Adjustable Over-Voltage Protection for Single or Dual LED Operation in Handheld Devices



Powerwise 1.2A Flash LED Driver Features an I2C Compatible Interface to Configure 128 Brightness Levels and 16 Safety Timer Durations

SANTA CLARA, Calif. - March 31, 2008 - National Semiconductor Corp. (NYSE:NSM) today introduced the industry's first high-current light-emitting diode (LED) driver that enables dual LED operation for the camera flash function in portable multimedia devices. The LM3553, a member of National's PowerWise® energy-efficient product family, drives one or two high-current LEDs in series in handheld devices such as mobile phones, personal digital assistants (PDAs), smartphones, portable scanners and medical strobe lights.

National's LM3553 flash LED driver is a fixed-frequency, step-up DC-DC converter with two regulated current sinks, driving loads up to 1.2A from a single-cell Li-Ion battery. Using the driver's adjustable over-voltage protection circuitry allows designers to drive two high-current LEDs in a series configuration, which maximizes the illumination-to-power ratio. The LM3553 can drive the camera in a high-power flash mode for still photography or a low-power torch mode for video recording. To configure the driver to fit their application, designers can use the adjustable 128-flash current levels and 16-flash timer durations via an I2C compatible interface. The LM3553 also features built-in time-out protection to protect the flash LEDs in case of an error condition.

National's LM3553 flash LED driver maximizes the light output for low-power systems with peak efficiency equal to or greater than 90 percent, positioning it among National's PowerWise® family of energy-efficient products.

Technical Features of National's LM3553 LED Driver National's LM3553 features an adjustable switch current limit for the use of small inductors with lower saturation currents. The voltage mode offers a 5V rail for backlight LEDs and audio amplifiers. One or more high-current LEDs can be driven either in a high-power flash mode or a lower-power torch mode controlled by either an internal register or the FEN and TX pins. The TX input forces the flash pulse into a low-current torch mode, allowing for synchronization to RF power amplifier events or other high-current conditions. A GPIO pin adds a hardware resource to the system. The hardware reset pin offers full control over the device in case of system failures. Additional features include internal soft-start to eliminate large in-rush currents during start-up and fast switching frequency, allowing for the use of smaller external components.

The LM3553 is offered in a 12-pin LLP® package. For more information on the LM3553 or to order samples or an evaluation board, visit www.national.com/pf/LM/LM3553.html.

About National's Power Management Products National solves power management design problems in space- and energy-constrained applications from feature-rich handheld devices through large line-powered systems. From the novice power designer to the power expert, National's products, people and design tools enable customers to design green-powered systems with complex power supplies in the shortest amount of time. High-performance products include switching regulators such as National's flagship SIMPLE SWITCHER® family, and application-specific products including white-LED drivers and Power-over-Ethernet controllers. More information about National's power management products is available at www.national.com/power.

Availability and Pricing
Available now, the LM3553 is priced at $1.20 each in 1,000-unit quantities.

About National's PowerWise Brand
National's PowerWise brand reflects the company's energy-efficient product portfolio. It signifies products with outstanding performance-to-power at the component level, as well as products that provide an outstanding, energy-efficient solution when coupled with other National parts. National's PowerWise family of products features energy-efficient power management, operational amplifiers, interface and data conversion products. For more information about National's PowerWise brand, visit: www.national.com/powerwise.

About National Semiconductor
National Semiconductor, the industry's premier analog company, creates high-value analog devices and subsystems. National's leading-edge products include power management circuits, display drivers, audio and operational amplifiers, interface products and data conversion solutions. National's key analog markets include wireless handsets, displays, communications infrastructure, medical, automotive, industrial, and test and measurement applications. Headquartered in Santa Clara, Calif., National reported sales of $1.93 billion for fiscal 2007, which ended May 27, 2007. Additional company and product information is available at www.national.com.

Contact Name:
Gayle Bullock
Public Relations
E-mail: gayle.bullock@nsc.com

More from Sensors, Monitors & Transducers