Flash Cure System uses flat heater technology.
Press Release Summary: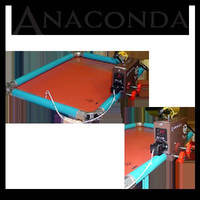 Loaded into print head of any automatic textile printer, Anaconda Flash Cure System uses rollers mounted to squeegee holder on automatic print head. Squeegee pressure provided by press pushes rollers over fiberglass reinforced, silicone encased flat heater. Process gels ink while pressing ink fibers into layer, providing smooth print surface for additional colors printed on top. Digital temperature control holds heater temperature constant and within flash cure parameters.
---
Original Press Release:
Anaconda(TM) Flash Cure Technology
A forerunner in innovation, the Anaconda flash cure system is the next level of spot cure technology.

This system loads into the print head of any automatic textile printer.  The Anaconda is designed to heat press flashes any color. With this technology the fibers of a garment are flattened into the gelled ink of the under base ink layer.  This process makes for a more vibrant appearance for any colors printed over the base color.

Using flat heater technology, the Anaconda uses rollers mounted to the squeegee holder on an automatic print head.  The squeegee pressure provided by the press pushes the rollers over a flat heater.  This process gels the ink while pressing the ink fibers into the layer.  This provides a smooth print surface for any additional colors printed on top.

The Anaconda features digital temperature control with solid-state circuitry to hold heater temperature constant and within flash cure parameters.  The curing mechanism is a fiberglass reinforced silicone encased flat heater mounted on a Teflon platform.  A Stretch Devices M3 roller frame provides the support structure.  The heater has an outside dimension of 23" x 31" with a control system that has an adjustable mounting fixture.

Additionally, the Anaconda requires low amounts of power for complete functionality.  Needing only 120 volts and 17 amps of power, this unit is a quick plug-and-go for installation.  Rollers are available for all makes of presses and attach to the squeegee support system.

For additional information on this groundbreaking product, view the Brown Manufacturing Group website at www.brownmfg.net or contact Brown Manufacturing Group, Inc.



 
Related