Flanged Heater meets needs of large tanks.
Press Release Summary: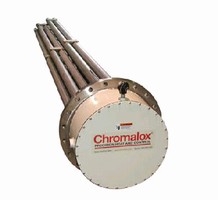 Powered by electricity, Model LTFX features 4-240 kW open-style coil elements, which may be removed without draining tank, requiring minimal or no process downtime. Unit is equipped with 4-14 in. 150 No. ANSI flange and type J thermocouple for temperature sensing on pipe wall. Heating operation may be fully automated using timers and controllers. With operating temperature of 0-750°F, heater is suited for fire water storage, asphalt, bio-diesel, and animal fats.
---
Original Press Release:

Chromalox Introduces Model LTFX for Large Tank Heating Needs



PITTSBURGH - June 8, 2007 - Chromalox, Inc. a leading manufacturer of industrial heat and control systems, has introduced a new Large Tank Flange Heater (LTFX). This new heater has low-watt-density, which provides even heating with precise control across the length of a tank. The LTFX is specifically designed for such applications as fire water storage, asphalt, bio-diesel, animal fats, and similar liquids.

The chief advantage of the model LTFX design is that the open-coil style elements (OCE) may be easily removed without draining the tank, requiring minimal or no process downtime. The elements may be bent to a vertical plane with as little as 36" of clearance, allowing for more efficient use of equipment layout in a floor-plan. This is ideal for operations which need 24-hour readiness.

Other features and cost-saving advantages:
o Each unit may be paired with a compatible control panel, which may be mounted in a remote location or installed directly on the LTFX heater, allowing for seamless installation and control.
o A standard, 150# ANSI-style flange provides easy installation with a straightforward mating connection that doesn't require special modifications.
o Each unit comes equipped with a type J thermocouple sensor for temperature sensing on a pipe wall.
o Powered by electricity, LTFX has no open flames, no pollution, no additional piping connections, operates quietly, and provides accurate control.
o LTFX units may be adapted to fit a custom installation which saves on-site fabrication time.

General Specifications
Connection Size: 4 to 14 in., 150# ANSI Flange
Immersion Length: 5 to 25 ft
Operating Temperatures: 0º to 750ºF
Element Rating: 4 to 240 kW
Voltage: 240 and 480 Vac., 3-Phase

Complete with Chromalox® controls, the LTFX may be operated with little or no manual attention. Heat can be controls by using strategically located sensors to monitor tank temperatures and to energize the heaters. The heating operation may be fully automated by using timers and controllers to program the start and stop of both off-peak and daytime heating functions.

For more information, go to www.chromalox.com or contact Chromalox at 1-800-443-2640.
About Chromalox, Inc. For more than 90 years, customers have relied on Chromalox for the utmost in quality and innovative solutions for industrial heating applications. Chromalox manufactures the world's largest and broadest line of electric heat and control products, including heating components, immersion heaters, circulation systems, heat transfer systems, boilers, industrial and comfort air heating, heat trace cables, sensors and precision electronic controls. With multiple manufacturing, engineering, warehousing and sales locations throughout North America and Europe, Chromalox is a global supplier providing the highest level of customer support. Chromalox is headquartered in Pittsburgh, PA.

More from Software