Flanged Ball Valves enhance sealing at elevated temperatures/pressures
Press Release Summary: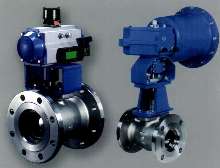 Jamesbury® chemical-resistant, flanged ball valves incorporate seat material that maintains contact with valve ball, enhancing sealing at elevated temperatures/pressures. Suited for use in critical chlorine, phosgene, hydrazine and cyanide applications, products are available in ½-20 in. standard bore and ½-24 in. full bore flanged ball valves, ANSI Class 150-300. Body, trim, and seat options are available to handle various applications.
---
Original Press Release:
New Jamesbury® Flanged Ball Valves Have Advanced Sealing Technology
NORTHBOROUGH, MA (February 13, 2004) - Jamesbury® flanged ball valves are equipped with the revolutionary Xtreme® sealing technology, expanding seat performance far beyond the boundaries of conventional solutions and providing numerous opportunities for cost reductions. Compared with products using PTFE, standard-filled PTFE and even PEEK seats, Jamesbury flanged ball valves with Xtreme seating materials offer a unique combination of performance advantages: Expanded temperature/pressure range. Better recovery helps the seat material maintain contact with the valve ball for superior sealing, even at significantly higher temperatures and pressures. Improved life cycle. Jamesbury valves with Xtreme sealing technology have demonstrated life cycle improvements as much as 500% over conventional materials. Lower torque. A lower coefficient of friction and reduced stiffness translate into lower torque requirements. This allows users to reduce actuators by one or more sizes over similarly rated seats. Excellent chemical resistance. The chemical compatibility of Xtreme® seats is equivalent to filled PTFE and better than PEEK. These advantages translate into numerous opportunities for cost reductions. A single seat material is easier to specify and reduces valve and spare part acquisition costs, as well as lowers inventories. A longer cycle life minimizes shutdowns and repairs. Lower torque reduces actuator and valve package size requirements and, ultimately, actuator costs. Better overall sealing eliminates leaking valves and reduces maintenance costs - even in critical chlorine, phosgene, hydrazine and cyanide applications. Metso Automation's Jamebury® flanged ball valve packages are available in 1/2" through 20" (DN 15-500) standard bore flanged ball valves and 1/2" through 24" (DN 15-600) full bore flanged ball valves, ANSI Class 150-300. Many body, trim and seat options are available to handle a variety of applications and demanding critical services (including oxygen, hydrogen peroxide, chlorine, steam and vacuum service.) For more information, contact Metso Automation, 44 Bearfoot Road, Northborough, MA 01532. Phone: 1-800-582-2560. About Metso Automation Jamesbury is a Metso Automation brand. Metso Automation specializes in automation and information management application networks and systems, field control technology, and life cycle performance services. Its main customers are the pulp and paper, rock and minerals processing industries, as well as power and hydrocarbon industries. Metso Automation operates worldwide and has sales and customer support units in 36 countries in Europe, North and South America, Asia and Australia, and Africa. In 2003, Metso Automation's net sales were EUR 531 million. The number of employees totals approximately 3,300. For more information about Metso Automation, please visit www.metsoautomation.com. Metso Corporation is a global supplier of process industry machinery and systems, as well as know-how and aftermarket services. The corporation's core businesses are fiber and paper technology (Metso Paper), rock and mineral processing (Metso Minerals), and automation and control technology (Metso Automation). In 2003, the net sales of Metso Corporation were EUR 4.3 billion and the personnel totaled approximately 26,300. Metso Corporation is listed on the Helsinki and New York Stock Exchanges. For more information about Metso Corporation, please visit www.metso.com.
More from Electronic Components & Devices