Flange Covers come in wide range of materials and sizes.
Press Release Summary: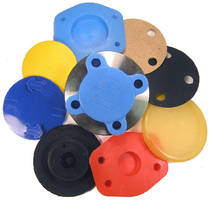 Available in ANSI/ASME B16.5 standard ranges with 150-2,500 lb ratings and ½-24 in. nominal sizes, flange protection disks come if 3 distinct materials to meet application requirements. Die-cut flange protectors include standard 5/8 in. hole pattern and bolt-hole sizes that match flange bolt-hole. Accessory items, such as flange plugs and cable ties, are available to accommodate all securing needs.
---
Original Press Release:

Flange Protection Disks



Alliance Plastics is pleased to offer our newly expanded line of flange protection disks. Sizes include ANSI /ASME B16.5 standard ranges from 150lb-2500lb ratings and from ½" nominal to 24" nominal sizes. Our flange covers come in 3 distinct materials for your appliance preference. Our die-cut flange protectors include std 5/8" hole pattern and bolt-hole sizes that match the flange bolt-hole. Alliance Plastics also offers a complete line of accessory items like flange plugs and cable ties to accommodate all securing needs.

In additions to our die-cut flange protectors and accessory items, Alliance Plastics continues to offer new and expanded flange covers in various styles ranging from peel-and-stick design, with adhesive backing, to our original design of bolted flange protectors that require no fasteners.

To view the complete product line; request a free printed catalog or request samples, visit us at www.allianceplastics.com/flange-protectors or call us at 1-800-832-8677.

About Alliance Plastics

Alliance Plastics is a manufacturer and distributor of protection and finishing components for a wide range of industries and applications. Alliance Plastics operates predominantly in the United States, Canada, Mexico and Brazil but has a global presence through distribution in Europe and Asia.

Alliance Plastics continually extends and develops its range of products. The company's extensive standard product range has proved a great success over the years, as more than 6,000 standard products are available from stock for same day dispatch. The company's full range of products, represented in the latest catalog, includes such product lines as:

General Protection

Caps | Plugs

Hose Protection, Bundling & Securing (TectorGuard(TM))

Masking Products

Electrical

Cable Ties and Clips

Fasteners

Pipe and Flange Protection

Finishing Components

Tube Inserts & Caps | Handles & Knobs | Bumpers, Feet & Glides

Related