Flange Alignment Tools combine safety, speed, efficiency.
Press Release Summary: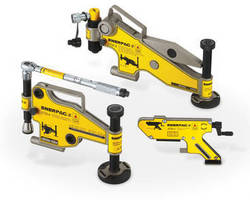 ATM-Series helps reduce set-up time and installation expense where rotational misalignments and twists in pipeline are common problems. Designed for single-operator use, ATM-2/-4/-9 Series do not require external power source, chains, slings, or lifting gear. Design allows use in any position and accommodates ANSI, API, BS, and DIN flanges. Max lifting force is 10 and 40 kN, respectively, for mechanical models ATM-2 and ATM-4, while ATM-9 with hydraulic alignment is rated up to 90 kN.
---
Original Press Release:

Enerpac's New ATM-Series Flange Alignment Tools Offer Improved Safety and Speed



ATM-Series Flange Alignment Tools



Menomonee Falls, WI — Enerpac's latest ATM-Series flange alignment tools offer enhanced safety and efficiency, helping reduce set-up time and installation costs where rotational misalignments and twists in pipeline are common problems. Most importantly, they are an improvement over earlier, alternate methods that could damage bolt holes.



The ATM-2, 4 and 9 Series were designed for use by a single operator, and without the need for an external power source, chains, slings or lifting gear. Perfect for most ANSI, API, BS and DIN flanges, their versatility allows effective use in any position.



The ATM-2 and ATM-4 mechanical models are durable, yet lightweight, self-contained solutions for easy transport to remote locations. Their compact design is ideal for applications with limited access. The ATM-2 has a maximum lifting force of 10 kN, handles bolt holes as small as 16 mm, and weighs 1,6 kg. The ATM-4 can apply 40 kN of force, is designed for bolt holes as small as 24 mm, and weighs 8,6 kg.



The ATM-9 features hydraulic alignment for tougher applications demanding up to 90 kN. With its larger capacity, it is suitable for bolt holes down to 31,5 mm diameter, and weighs 14,5 kg. A kit version includes an Enerpac P-142 two-speed hand pump, and a 1,8 m hydraulic hose.



Suggested for use in oil and gas, mining, energy, construction, infrastructure, manufacturing, process engineering, water and waste water industrial applications.



"Misalignment of flange joints often occurs when pipes are separated for testing, routine maintenance or during shutdowns. The misalignment may also occur during the construction phase, when new pipe is being installed," says Enerpac.



"Earlier methods of flange manipulation could be hazardous and time-consuming because they required a lot of manual lifting. They could also damage the flange bolt holes. Enerpac's new alignment tools are safer, easy to use, and can be employed on many popular flange sizes," says Enerpac, which distributes globally a broad range of professional, non-impact bolting technologies.



Videos of the ATM-Series flange alignment tools can be viewed at: http://www.enerpac.com/en-us/industrial-tools-imperial/mechanical-hydraulic-bolting-tools/joint-assembly-tools/atm-series-flange-alignment-tools 



Enerpac is an international market leader in high-pressure hydraulics, with 28 offices in 22 different countries and over 1,000 employees. Enerpac produces thousands of high-pressure hydraulic products that are distributed worldwide. Enerpac focuses on the design of products, from the smallest cylinder to complete computer-operated lifting & positioning systems, which increase productivity and make work safer and easier to perform.



Inquiries:



Eileen Scharenbroch, Global Marketing Communications Leader eileen.scharenbroch@enerpac.com Phone 262-293-1660



North and South America



Roberta Moring, Marketing Communications Leader - Americas roberta.moring@enerpac.com Phone 262-293-1655

More from Thermal & Heating Equipment