Flame Safeguard, Actuator enable efficient burner control.
Press Release Summary: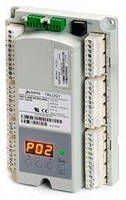 Offered in No-Purge, Purge, and Modulating versions, Trilogy T400 flame safeguards provide safe and secure burner startup and flame monitoring. Other features include integral display for status, sequence, and faults; history and diagnostics; and programmable timings. Designed to optimize burner and valve control while simplifying setup and maintenance, IP66-rated Trilogy T500 Actuator is offered with 2- or 3-position step and analog (4-20 mA) drive types.
---
Original Press Release:

Eclipse Inc Announces the Release of New Trilogy Series T400 Flame Safeguard and T500 Actuator



Eclipse announced the introduction of the all new Trilogy series T400 Flame Safeguard and T500 Actuator. The Trilogy series offers Simple, Secure and Efficient burner control, allowing users to focus more on their production process and less on combustion equipment. The new products continue Eclipse dedication to innovation to serve the needs of the industrial heating markets.

Trilogy T400 Flame Safeguards
The Trilogy T400 flame safeguards offers the most advanced, user-friendly flame safeguard in the industry and provides safe and secure burner startup and flame monitoring with exceptional features, including:


Worldwide acceptance with European and American approvals

Best flame signal detection

Integral display for status, sequence and faults

Detailed history and diagnostics

No-Purge, Purge, and Modulating versions

Programmable timings

Trilogy T500 Actuators
The new Trilogy T500 Actuator is the easy, reliable way to optimize burner and valve control while simplifying set-up and maintenance. A selection of mounting brackets provides installation flexibility and easy retrofits. Some of its significant features:


Worldwide acceptance with European and American approvals

Multiple drive types including 2 position, 3 position step and analog (4-20mA)

Excellent positioning precision and repeatability

NEMA 4 / IP66 protection against dirt and liquids

About Eclipse, Inc.

Founded in 1908, in Rockford, Illinois, Eclipse, Inc. is now under the third generation of family ownership. Eclipse, Inc. is a worldwide manufacturer of products and systems for industrial heating and drying applications. They design and manufacture a wide variety of gas and oil burners, recuperators and heat exchangers, complete combustion systems, and accessories for combustion systems. Eclipse, Inc. offers its customers an excellent single source for design, installation, and service for total combustion needs, supported by expert application engineering services, anywhere in the world.

Eclipse has been at the forefront of the combustion industry for over 100 years. This experience, combined with the legacy of growth, innovation and leadership has paved the way for Eclipse's emergence as a global provider of combustion products.
www.eclipsenet.com

CONTACT: Patrick O'Keefe, Eclipse Marketing Manager
815.637.7269
[email protected]