Flame Retardant Piping meets ICC fire code.
Press Release Summary: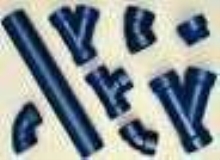 Kynar® 740-02 polyvinylidene fluoride (PVDF) thermoplastic piping meets flame and smoke requirements developed by International Code Council® (ICC) for material use in building plenums. Available with 0/10 or 10/35 ASTM E84 rating, product exhibits resistance to most chemicals at room temperature in acid waste drainage applications and can handle elevated temperatures to 150°C. Performance polymer is also resistant to abrasion.
---
Original Press Release:

Kynar® PVDF Flame Retardant Piping Meets ICC Fire Code


Philadelphia, PA, March 16, 2005 - Polyvinylidene fluoride (PVDF) is a thermoplastic that meets the flame and smoke requirements developed by the International Code Council® (ICC) for material use in building plenums. The standard is described in section 602.2.1 of the International Mechanical Code® and it clearly specifies that only material achieving a flame spread/smoke developed rating of less than 25/50 may be exposed within any area of a plenum. Arkema Inc. offers Kynar® 740-02 PVDF to meet this need with a 0/10 or 10/35 ASTM E84 rating and is listed by the ICC-ES (formerly BOCA) under report 98-38.01.

Kynar® 740-02 PVDF also provides chemical resistance to nearly all chemicals at room temperature in acid waste drainage applications and can handle elevated temperatures of up to 150°C.

Kynar® PVDF is a performance polymer offering high chemical, abrasion and thermal resistance that is used in a multitude of applications including pipe, fittings, valves, cable ties, injection molded parts and coatings. Arkema Inc. manufactures Kynar® PVDF in Calvert City, Kentucky.

For more information, log on to www.kynar.com or contact Susan Morris at (215) 419-7830.

Arkema was launched on October 1, 2004, as a result of the reorganization of Total's chemicals business. Arkema has tremendous potential and counts on the experience and expertise of its 19,300 employees worldwide to create a company of innovation, growth and performance.

With EUR 5 billion ($6 billion) in sales worldwide, 90 industrial sites in more than 40 countries, and six research and development centers, Arkema consists of three balanced business segments: Vinyl Products, Industrial Chemicals, and Performance Products. With its internationally recognized brands, Arkema holds leadership positions in its principal markets.

In the U.S., Atofina Chemicals, Inc. is now Arkema Inc. In Canada, Atofina Canada, Inc. is now Arkema Canada Inc.

The name Arkema reflects the principles of strength, balance, movement and vitality, as illustrated by the symbol of the arch and the graphics of the logo.

In the center of the name, the syllable KEM clearly indicates our activity in the chemical industry and our pride in being in a business that is at the heart of life.

Kynar® is a registered trademark belonging to Arkema Inc. ©2005 Arkema Inc. All rights reserved.

International Mechanical Code® is a registered trademark belonging to International Code Council, Inc.

arkemagroup.com

More from Machinery & Machining Tools