Flame Retardant Epoxy is UL-94V-0 approved.
Press Release Summary: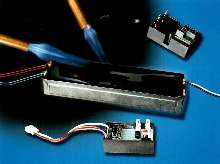 Rigid cure epoxy, EP-211FRHTC (Flame Retardant High Thermal Conductivity), offers thermal conductivity and flame retardancy. When cured at room temperature, it has service temperature of up to 130°C. When heat cured, epoxy withstands temperatures up to 200°C. Its viscosity provides penetration and void filling. Electrical potting and encapsulating epoxy reduces operating temperature of potted internal components.
---
Original Press Release:

Unique, Flame Retardant Epoxy Potting Compound Withstands Temperatures of Nearly 200° C


A new flame retardant epoxy, EP-211FRHTC (Flame Retardant High Thermal Conductivity), represents a breakthrough in electrical potting and encapsulating technology. The unique UL-94V-0 approved compound, developed by the Solar Compounds Corporation, Linden, NJ is a rigid cure epoxy that offers outstanding electrical properties, high thermal conductivity and flame retardancy. Solar provides the user with a choice of hardeners for room temperature or heat cure. When cured at room temperature, EP-211FRHTC has a service temperature of up to 130°C. When heat cured, the epoxy withstands temperatures of up to 200°C, 50°C to 80°C above that of conventional high temperature resistant epoxy potting materials. Its viscosity provides excellent penetration and void filling.

Solar potting and encapsulating compounds are targeted at the demanding high performance requirements of the electrical industry for the potting of HID electronic ballasts, capacitors, power supplies, relays and other devices with high heat dissipation requirements. EP-211's high thermal conductivity significantly reduces the operating temperature of potted internal components - thus extending the life cycle of electrical devices. EP-211FRHTC provides higher flame retardancy, increased high voltage insulating characteristics and improved thermal management than currently available materials. While EP-211FRHTC is a rigid cure material, Solar also offers epoxies, RTV-Silicones and unique hybrid polymers for users who want a soft, rubbery, low stress cure, yet need to operate at high temperatures and want to avoid using problematic polyurethanes.

EP-211FRHTC joins the Solar product line of UL approved electrical potting and encapsulating epoxy and RTV-Silicone compounds. In addition to their line of advanced technology electrical materials, Solar also produces high performance structural adhesives with outstanding peel strength, chemical/temperature resistance and thermal cycling for OEM and specialized applications.

With laboratories and formulation facilities in Linden, NJ, Solar Compounds has over 80 years of experience in the research, development and manufacture of insulating and coating materials for high voltage applications in the power, wire and cable industry. This experience has been an important factor in the development of their new line of advanced technology epoxy compounds.

Solar Compounds Corporation, 1201 W. Blanke St., Box 1097, Linden, NJ 07036
Phone: (908) 862-2813 o Fax: (908) 862-8061
Web: www.SolarCompounds.com o E-mail: sales@solarcompounds.com

For further information, contact: David Robinson, Vice President of Technology, Phone: 908-862-2813, ext. 30 o Fax: 908-862-8061 o E-mail: drobinson@solarcompounds.com


More from Chemicals & Gases