Flame-Resistant Outerwear targets oil and gas workers.
Press Release Summary: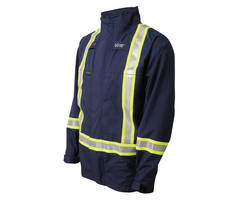 Featuring GORE-TEX® PYRAD® Fabric for use in foul weather, GORE® FR Apparel meets demanding needs of oil and gas workers. Jacket, bib, and detachable hood combination provides protection from incidental flame exposure and weather protection across wide range of environmental conditions, while offering moisture management to optimize comfort and safety. Lightweight 2-layer ePTFE membrane construction also helps protect workers from exposure to hot liquids, steam, and common oilfield contaminants.
---
Original Press Release:
W. L. Gore & Associates Introduces GORE® FR Apparel, The Next Generation of Flame-Resistant Foul-Weather Outerwear for Oil and Gas Workers
ELKTON, Md.,  -- W. L. Gore & Associates, Inc., the company that created the category of waterproof, windproof, and breathable outerwear and reset the industry watermark for comfort and protection with GORE-TEX® Fabric, is now doing the same for oil and gas industrial workers with the introduction of GORE® FR Apparel products featuring GORE-TEX® PYRAD® Fabric – the most comfortable flame-resistant (FR), foul-weather outerwear available on the market.

GORE® FR Apparel is a new line of FR foul weather outerwear products designed to meet the demanding needs of oil and gas workers. A jacket, bib, and detachable hood combination offers protection from incidental flame exposure and weather protection across a wide range of environmental conditions, while offering moisture management to improve comfort and safety. The durable, lightweight 2-layer ePTFE membrane construction also helps protect workers from exposure to hot liquids, steam common oilfield contaminants, and allows for easy care and cleaning.

"Simply put, GORE® FR Apparel is a best-in-class line of foul-weather outerwear products that will deliver an unprecedented performance-to-value solution for our customers in the oil and gas markets," said Sean McDearmon, Market Development Champion for Gore. "A new performance benchmark has been established."

Gore will be featuring the new line of GORE® FR Apparel products with GORE-TEX® PYRAD® Fabric at the National Safety Council Congress in Anaheim, CA on October 17-19, Booth #3758.  For more information visit our website at www.goreprotectivefabrics.com/utilities or call 800.431.GORE (4673).

About W. L. Gore & Associates, Inc.
Gore is a technology-driven company focused on discovery and product innovation. Well known for waterproof, breathable GORE-TEX® fabric, the company's portfolio includes everything from high-performance fabrics and implantable medical devices to industrial manufacturing components and aerospace electronics. Founded in 1958 and headquartered in Newark, Delaware, Gore employs more than 10,000 associates worldwide. Gore is one of a select few companies to appear on all of the U.S. "100 Best Companies to Work For" lists since the rankings debuted in 1984.The company also appears regularly on similar lists around the world. Learn more at www.gore.com.

GORE-TEX, GORE, PYRAD and designs are trademarks of W. L. Gore & Associates.

CONTACT: Jason Rodriguez, 410.506.5055, jmrodrig@wlgore.com, www.goremilitary.com

Web Site: http://www.gore.com
More from Packaging Products & Equipment