Flame-Resistant Hydration System prevents heat stress.
Press Release Summary: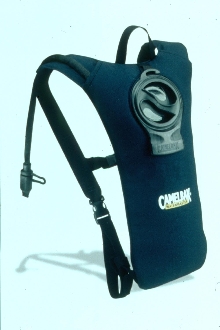 Hands-free FR WaterMaster has front panel, back panel and yoke made of 6 oz Nomex®III A for flame resistance and adjustable, flame-resistant sternum strap. 210 Denier black nylon lining and tread have flame-resistant coating. Low-profile, wide-mouthed opening allows for filling 70 oz reservoir with water and ice. System is designed for workers in utility industry, welding industry and other workplace settings where flames and spark are common.
---
Original Press Release:
CamelBak(R) Products Introduces Flame-Resistant Hydration System

PETALUMA, Calif. (December 3, 2001) - CamelBak Products, the innovator of Hands-Free Hydration Systems, will offer a flame-resistant hydration system as of March 1, 2002.

The FR WaterMaster has a front panel, back panel and yoke made of 6 oz Nomex®III A for flame resistance. The system's 210 Denier black nylon lining also has a flame-resistant coating as does the system's tread. In addition, there is an adjustable flame-resistant stermum strap.

"We developed this product based on user needs in the utility industry, welding industry and other workplace settings where flames and sparks are common in high-heat environments," explains Gavin McLachlan, director, Industrial Safety Division, CamelBak Products.

Staying hydrated in hot workplace settings is one of the best ways workers can avoid heat stress, which can lead to numerous health, safety and productivity problems. It is estimated that more than 10 million people in the U.S. work in industries where heat stress is a potential safety and health hazard. Hydration experts recommend drinking water every 15 to 20 minutes to combat the effects of heat and replace the body fluids that are lost by sweating.

System Features
In addition to its fire-resistance, the FR WaterMaster features CamelBak's new OMEGA Fillport, a low-profile, wide-mouthed opening for filling the system with water and ice. The system contains an insulated 70-ounce (2 liter) reservoir that keeps liquids cool for hours of hot, strenuous work. The high-capacity reservoir means workers can stay hydrated longer and on the job longer, which is especially beneficial to those who work far from ready sources of water. A covered delivery tube provides hands-free access to liquids while working, and the Big Bite Valve (with insulated cover) makes it easy to drink from the system by lightly biting down on the end of the tube and drawing liquids through as with a straw.

The FR WaterMaster has an adjustable, ergonomic harness and a narrow profile for maximum comfort and freedom of movement. A nylon strap "management" system keeps straps from dangling or getting caught in equipment or machinery. In addition, a D-ring tube management system lets wearers attach radios or other gear to the pack.

About CamelBak® Products
CamelBak Products was formed in 1989 to bring Hands-Free Hydration M to the world of cycling. The company's products began to cross over into other sports when scientific studies showed athletes drank more fluids and performed better when they wore a CamelBak product. The importance of providing troops with water on the battlefield and in training operations has always been a priority for the U.S. Military. In 1991, Operation Desert Storm further emphasized the importance of providing and delivering water to troops under conditions of extreme heat. Today, CamelBak hydration systems are used by the Navy's SEALs,
the Army's Rangers, the RECON Marines, the Air Force Special Forces, Tactical Law Enforcement and nearly every soldier, sailor, airman, Marine or police officer who requires hydration. In fact, the StormTM from CamelBak is the standard issue hydration system with the Armed Forces new MOLLE system pack.

CamelBak Hands-Free Hydration Systems are making similar inroads into the occupational health and safety fields. Like athletes and soldiers, workers in a variety of industries are often faced with hot, humid conditions -- frequently while wearing protective clothing. To meet the needs of all these groups, CamelBak offers a full range of Hands-Free Hydration Systems to professional and novice athletes, military and law enforcement professionals and workers in a variety of industries where hot, humid, hard-working conditions are a fact of life.

For more information on CamelBak Products, visit the company's
web site at www.camelbak.com, call the company at 1-800-767-8725, ext. 288 or email to industrial.sales@camelbak.com.

®Nomex is a Registered Trademark of the DuPont Company.
®/TM All others Registered Trademark or Trademark of CamelBak
Products.
More from Agricultural & Farming Products