Flame Detector features sealed electronic and sensor section.
Press Release Summary: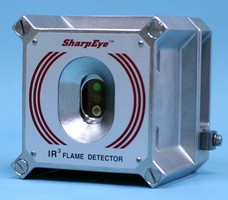 SharpEye 20/20SI Triple IR Flame Detector has main section sealed to protect electronics and sensors from moisture during commissioning and maintenance. Modbus protocol is standard for RS-485 output, and microprocessor design allows for field programmability, minimizing false alarms. Factory settings can be updated before installation using PDA or laptop. Optical detector is available in FM and ATEX versions in aluminum or stainless steel housing.
---
Original Press Release:

Upgraded IR3 Optical Flame Detector



Cedar Grove, NJ (May 30, 2007) - Spectrex Inc., the world's leader in the development and implementation of optical flame and gas detection and suppression systems, has further upgraded its original patented Triple IR Flame Detector with an improved design - SharpEye 20/20SI which has a sealed electronic & sensor section to ensure protection from the environment during installation and additional field programmability features.

The 20/20SI model, which is identical in appearance and priced the same as the 20/20I, is available in both FM and ATEX versions and in standard aluminum or optional stainless steel housing.

Key features of the 20/20SI model include:
o The main section is sealed to protect the electronics/sensors from moisture during commissioning/maintenance.
o Modbus protocol is the standard for the RS-485 output.
o The PCBs are manufactured using Surface Mounted Technologies (SMT).
o The power required is at least 50 mAmp less than for the 20/20I (i.e., 100 mAmp / 150 mAmp).

The microprocessor design allows for unique field programmability not found in similar detectors, making the 20/20SI highly immune to false alarms.

The detector's factory settings can be updated at your facility before installation, using a hand-held communicator (PDA) or a laptop PC with Spectrex cable, RS-485 to RS-232 converter and Spectrex host software.

The detector has applications in a wide range of industrial and commercial facilities, where the threat of accidental fire involves hydrocarbon fuels, such as gasoline, kerosene, diesel fuel, aviation jet fuels like JP-4, JP-5, JP-8, hydraulic fluids, paints and solvents, hydrocarbon gases like ethylene and polyethylene, natural gas (LNG), town gas, liquefied petroleum gas (LPG), methane, ethane, propane, etc.

About Spectrex Inc.
For over 25 years, Spectrex Inc has been providing the market with the best detection and suppression systems and products that meet the highest customers' requirements for reliability, quality and operation in extremely tough environments.

Spectrex's competitive edge is based on its innovative capabilities and its unique technologies that are protected by more than 20 diverse international patents, including UV/IR and IR3 Optical Flame Detection, Flash-Type Open Path Gas Detection, EMF and SFE novel fire suppression technologies.

For more information about Spectrex Inc and its products, visit www.spectrex-inc.com, or contact Eric Zinn at 1(973) 239-8398 or 1(800) 452-2107 (Toll free within the US only).

More from Chemicals & Gases