FKI Logistex and 3M Deliver Automated Check-In and Sorting Systems to Libraries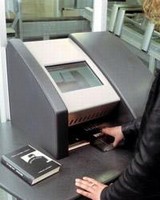 Libraries and customers benefit from improved productivity

(Frederick, Maryland, USA: April 21, 2006) FKI Logistex® (www.fkilogistex.com), a global leader in integrated material handling solutions, announces that it has formed an alliance with 3M® to offer a full range of automated check-in and sorting systems to libraries in North America.

FKI Logistex, a premier provider of automated, self-service sorting and conveying systems, and 3M, a trusted supplier of library solutions, will leverage their strengths to offer efficiency improvements to libraries. This alliance makes it possible for libraries to design a complete collection management system that fully meets their individual needs.

Library solutions from FKI Logistex and 3M improve service for library customers and simplify work for library staff by automating material handling tasks, such as sorting and return-to-shelf. Automating time-consuming material handling processes increases library efficiency and staff productivity. Improvements in collection management offer library staff the freedom to perform more services for customers, in turn making libraries more customer-friendly and increasing customer satisfaction.

"3M is a world-class company with a proven global track record in library self-service and security and a strong devotion to customer satisfaction," says Cory McCoy, product manager, FKI Logistex Library Systems. "FKI Logistex is looking forward to the opportunities this partnership provides for success in the library market."

"We are delighted to partner with a company the caliber of FKI Logistex," adds Rory Yanchek, business manager, 3M Library Systems. "This is another example of 3M's continuing commitment to bringing unique productivity, security and information management solutions to libraries."

Cost-effective, automated library solutions systems from FKI Logistex and 3M include:Automated check-in
Automated check-out
Reserve pickup
Collection security
Circulation materials sorting
Inter-library tote handling and buffer systems
Customer reserve, storage and retrieval systems
Ergonomic transport devices
RFID tracking
Circulation materials conveying systems

For more information on FKI Logistex library material handling solutions, visit http://www.fkilogistex.com/library.

For sales and marketing information, contact Tom Pinkin, marketing manager, FKI Logistex North America, by phone at (240) 629-1413 or by e-mail at tom.pinkin@fkilogistex.com.

For media information, contact David Abels, senior account executive, Koroberi, Inc. (www.koroberi.com), by phone at (919) 960-9794 ext. 22 or by e-mail at david@koroberi.com.

About FKI Logistex
FKI Logistex® (www.fkilogistex.com) is a leading global provider of automated material handling solutions, supplying its customers with an integrated set of leading-edge technologies in high-speed sortation, conveyor systems, palletizing, paperless pick products, AS/RS, controls, order fulfillment systems, RFID implementation, EDS integration, baggage handling systems, warehouse control systems, and total material handling automation.

FKI Logistex provides material handling solutions for airports, postal facilities, parcel distribution, manufacturing operations, library automation, and for warehouse and distribution facilities. With projects that include many of the world's largest and most advanced material handling operations, FKI Logistex has manufacturing, engineering and support facilities around the world. For more information on FKI Logistex, click here to visit the FKI Logistex media center. For general sales information, contact FKI Logistex by phone at +1.877.935.4564 in North America, +44 (0) 8706 060120 in Europe, or +86 21 52372255 in Asia. Contact FKI Logistex by e-mail at info@fkilogistex.com.

More from Machinery & Machining Tools