Fizeau Interferometer Measuring Tower features motorized axes.
Press Release Summary: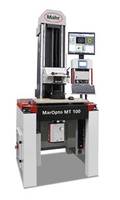 MarOpto MT 100 Fizeau Interferometer Measuring Tower is used to measure radius and form deviations. Unit features measurement wizard guides and is embedded with Intelliwave software. Product can measure spheres, aspheres and flats. Tower comes with accessories such as Fizeau lenses, objective lens extensions, objective lens protection, different lens holders and CGHs. MarOpto MT 100 is suitable for production of optics up to 4 in. diameter.
---
Original Press Release:
Mahr Inc. Introduces the MarOpto MT 100 Fizeau Interferometer Measuring Tower
High precision, low cost interferometer for measuring spherical and plano optics on the shop floor
Mahr Inc. is excited to introduce the MarOpto MT 100, the first in a new series of Fizeau interferometer towers for measuring optics directly in production. The MarOpto MT 100 will be featured at the SPIE Optifab Exhibition on October 17-19, 2017, in the Mahr booth number 1015.
Fizeau interferometers from Mahr are supported by the company's proprietary Intelliwave software to allow easy measurement of both radius and form deviations. A measurement wizard guides the user through the steps to complete the measurement.
MarOpto MT 100 is ideally suited to precision optics production up to 4" diameter. Spheres and flats can be measured with lambda/20 accuracy and the Z axis covers 800 mm at a resolution of 0.5 µm for precision determination of the radius in the optic under test.
Other MarOpto measuring tower models will cover a large range with measuring areas from 1/2" (small table-top tower) to 12" (CNC stitching tower). Vertical tower solutions offer easy handling of lenses and quick measurement. They include internal vibration damping and utilize only a small footprint. Besides tests of form deviation, towers with scales can measure radii with high accuracy as well. Motorized axes allow easy and fast operation and options are available for automation as well as dedicated analysis.
Spheres, aspheres and flats can be measured. Towers can also be upgraded with a second stage for CGH (computer generated hologram) holders or XY tilting tables. Comprehensive accessories, including a large number of Fizeau lenses, objective lens extensions, objective lens protection, different lens holders, CGHs, etc., enable application driven configurations for each particular measuring tower. In addition, some models offer special housings to provide dedicated protection against environmental influences in the production area.
Mahr Inc. is a member of the Mahr Group, which has over 150 years of experience providing dimensional measurement solutions to fit customer application needs. The company manufactures and markets a wide variety of dimensional metrology equipment, from simple and easy-to-use handheld gages to technically advanced measurement systems for form, contour, surface finish and length. Mahr is also well known as a producer of custom-designed gages and a provider of calibration and contract measurement services. Mahr Inc.'s calibration laboratories are accredited to ISO/IEC 17025:2005 NVLAP Lab Code 200605-0 (see our Scope of Accreditation for accredited calibration processes). For more information visit http://www.mahrexactly.com/.
For additional information, contact:
Marketing
Mahr Inc.
1144 Eddy Street
Providence, RI 02905 USA
Tel: (800) 343-2050 or (401) 784-3100
Email: mkt.nafta@mahr.com
Web site: http://www.mahrexactly.com/
More from Construction Equipment and Supplies