Fixturing and Clamping Tables offer entry level option.
Press Release Summary: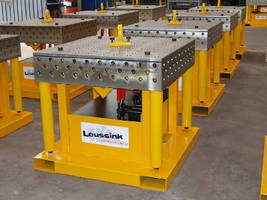 Intended for modest fabrication shops, ecoLine Tables are typically 5-sided units with regular pattern of bores located across top and around sides and limited set of fixtures and clamps. Table sizes range from 1,000 x 200 mm to 1,500 x 3,000 mm. Suitable for use with metals, wood, plastic, or glass, ecoLine targets industries where accurate and rapid assembly methods are required and wherever economic positioning, clamping, tacking, and welding is necessary.
---
Original Press Release:

Entry Level Fixturing Tables



Leussink Engineering has developed a scaled down version of its successful demmeler modular fixturing and clamping table to cater for companies looking for an entry level option to add to their manual processes.



Known as ecoLine, the new version has many of the functionality and design features as its superior alternative, expertLine, except with standard quality on components and a reduced warranty. It can be used with metals, wood, plastic or glass.



It is suitable for just about any industry including general engineering and fabrication, mine maintenance workshops, welding and jobbing shops, design teams, or any application where components need to be secured for testing or manufacturing processes.



Leussink Director and Design Engineer, Mr Jason Leussink, says the company always had strong expectations that the demmeler solution would take hold in Australia and New Zealand, but probably didn't expect demand to be as high as it has become.



"With the expertLine, we always had it in mind that because of the capital outlay involved a demmeler fixturing table solution would be primarily of interest to the top end workshops across the industry spectrum," said Mr Leussink.



"But we quickly learned that even the smaller, more modest workshops and fabrication shops see the value and accuracy in this type of solution in their processes, so immediately we knew a scaled back version was urgently required to ensure any size business can afford a demmeler table – even at entry level.



"Hence the ecoLine came about and now it opens even more potential for us to supply Australian industrial businesses with a system that will give them speed, accuracy and repeatability."



The entry-level ecoLine differs from expertLine in that its holes and slots are more basic; it comes with a limited set of fixtures and clamps and therefore takes less time to manufacture. Its reduced warranties cover everything a business would expect covered at entry level and it is suitable to any industry.



"This for those companies that manufacture basic products and are focused on the bottom line.



"We view it as an entry-level into the world of demmeler. There is no difference in the table surface and functionality between the two types except that the upmarket expertLine is coated with rust preventer whereas the ecoLine is raw steel.



"Even by using the ecoLine, the quality improvements in workmanship is very noticeable and if the time comes when the user wants to upscale they can.



"For entry level users, ecoLine takes many manual processes out of manufacturing and gives the user a brilliant level of modernisation.



"Even though the ecoLine is not finished as brilliantly as the expertLine, we have considered every basic function that an entry level client might want and need to slot seamlessly into their existing manual processes."



A typical demmeler ecoLine system features a five-sided table with a regular pattern of bores located across the top and around the sides. Table sizes range from 1000mm x 200mm to 1500mm x 3000mm. This modular fixture also serves as the first in-process quality check for all of the loose pieces.



ecoLine is suitable for use in any industry where accurate and rapid assembly methods are required and wherever economic positioning, clamping, tacking and welding is necessary.



These modular holding tables can be used in car making, farm machinery and defence products construction, container production, gate and handrail manufacture, mining equipment making, food machine manufacture, building and construction material making and even in the production and reworking of non-metallic parts such as those made of wood, plastic or glass.



A wide variety of components can be welded and/or assembled on these modular tables to create a precise fixture and even where the part size exceeds the table surface, being modular, angles or extensions can be mounted to the sides to act as outriggers that extend the capacity.



For more information, please contact Mr Jason Leussink

Leussink: 16-18 Doyle Ave, Unanderra, NSW 2526

Tel: 02 4260 7777, email: Jason@leussink.com.au

web: www.leussink.com.au

More from Architectural & Civil Engineering Products