Fixtureworks to Feature Expanded Product Line at IMTS 2018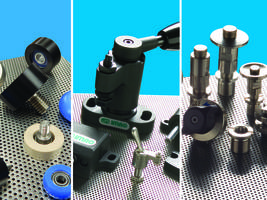 Fixtureworks® (Fraser, MI), a leading supplier of clamps, fixturing accessories, machine tool and material handling products, will showcase several new product lines in Booth W-432377 at IMTS, September 10-15, 2018 McCormick Place, Chicago. Highlighting the exhibit will be its lineup of all-new bearing wheels, indexing plungers and TG GripSert inserts from Fairlane® Products; Imao® One-Touch Fasteners; and a complete offering of fixturing and workholding components.
Fairlane Products bearing wheels feature a roller bearing and a cover made from nylon, polyacetal, UHMW, PEEK, urethane, steel, or stainless steel. The wheels are flat, crowned or radial to meet a wide range of application needs. Bearing mount and stud mount versions are available. Outside diameters range from ¾ in. to 1-3/4 in.
On display will also be the company's extensive line of premium indexing plungers. These spring-loaded, hand retractable plungers have a wide range of applications to lock items in place. They are used to prevent any change in position due to lateral force. Available in a wide range of inch threads, the styles include standard, low profile, compact, slim compact, D-ring, cam lever and weldable.
TG GripSert carbide gripper inserts from Fairlane Products are designed for ultra low- profile clamping with no dovetail workpiece preparation. With serrations designed for steel, hardened steel, titanium and aluminum, these patented triangular grippers feature two rows of teeth at different angles to maximize the pull-down effect and prevent lifting of the workpiece. They are ideal for upgrading existing vise jaws.
The expanding line of Imao® One Touch Fasteners now includes pin-holding and expanding-pin versions for applications with limited space for traditional receptacles. These fasteners are a convenient alternative to cumbersome nut-and-bolt assemblies for quick, easy and secure changeover and installation without the need for any tools. The pin-and-receptacle One-Touch Fasteners are used to attach fixtures, plates, machine covers and more, joining components with moderate clamping force.
Also featured in the exhibit will be Fairlane® Products full line of fixturing accessories including grippers, rest pads, Swivots® swivel/pivoting positioning components, Quick Release ball-lock pins, rollers and bumpers and urethane covered bearing rollers. Vise Force wedge clamps from PAWS Workholding will debut in the Fixtureworks product line. The exhibit will also feature the full lineup of manual clamps, vises, APS zero-point system, spring plungers, rest and riser pads, levers, handles, knobs, and hand wheels, supports and stops, risers, T-nuts, sliding mounts, springs, supports, grid plates and columns, and a wide range of quick change precision locating and mounting systems.
33792 Doreka • Fraser, MI 48026. 
Tel: 586.294.1188 • Toll Free: 888-794-8687
www.fixtureworks.net
For further editorial information, contact:
Ed Szykula, Kracoe Szykula & Townsend
szykula@ksthip.com 
Contact This Company Download Spec Sheet
More from Fasteners & Hardware