Fixture checks accuracy of car steering wheels.
Press Release Summary: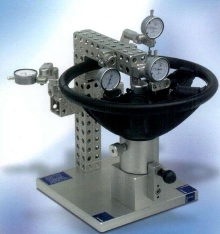 Checking Fixture with Dial Gauges inspects mounting surfaces which will support air bag. Steering wheel is set up and fixed in clamping sleeve. When fixing pin is released steering wheel can be rotated, without affecting X and Y axis, and measured in different positions, verifying roundness and surface accuracy. Fitting accuracy of area surrounding airbag is checked using separately machined dummy.
---
Original Press Release:
Checking Fixture for Airbag

For checking accuracy of car steering wheels Witte L.P., manufacturer of modular Alufix system for workpiece fixturing, recently made a checking fixture with dial gauges. The steering wheel is set up and fixed in a clamping sleeve. Important mounting surfaces which will later serve to support the airbag are checked using dial gauges. When the fixing pin is released the steering wheel can be rotated without affecting the X and Y axis, and measured in different positions. This means roundness and surface accuracy are checked by simple rotation of the steering wheel.

Further the fitting accuracy of the area surrounding the airbag is checked using a separately machined dummy.

Witte L.P. USA
5126 South Royal Atlanta Drive, Tucker, GA 30084
Contact: Maren Roeding, Tel.: +49 / 58 54 / 89-47, maren.roeding@horst-witte.de
Related