Fixed-Mount Computer suits in-vehicle applications.
Press Release Summary: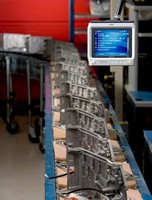 Offered in desktop- and wall-mount versions, CV30 turns forklifts into real-time communications hubs in industrial warehousing, material management, work-in-progress, and shipping/receiving environments. It offers choice of Windows Mobile 5.0 and Windows CE 5.0 OS and provides wireless connectivity/functionality via integrated 802.11b/g WLAN and Bluetooth radios. While equipped with keyboard and 6.4 in., heated, touch-sensitive color display, product does not obstruct workers' vision.
---
Original Press Release:

Intermec Introduces New Class of Rugged Computers Ideal for Both Vehicle-Mount and Fixed-Mount Applications



New CV30 offers flexibility, durability and value in a compact, competitively-priced Windows Mobile or CE device

Implementing and supporting different devices throughout the enterprise is costly and labor-intensive. The new Intermec CV30 fixed-mount computer, a new class of flexible device built for rugged performance in industrial warehousing, material management, work-in-progress and shipping/receiving applications, simplifies that. Its compact size, powerful performance and versatile features make it the ideal computer for a wide range of applications and locations.

The CV30 is the core of Intermec's Forklift of the Future concept, which turns forklifts into powerful, real-time communications hubs capable of dramatically increasing warehouse efficiency and productivity. Yet the CV30's flexible mounting options allow the CV30 to be used well beyond traditional forklift applications for true warehouse flexibility and ease of use, training and maintenance. It has two styles of vehicle mounting, a desktop mount for work-in-progress and other stationary applications, and a wall mount option for time and attendance applications.

The CV30 is more than 50 percent smaller than most vehicle-mounted devices, providing a safer, unobstructed field of vision for workers, yet features a sharp, 6.4 inch/16.5cm full-screen color display and large keyboard that support virtually any application. The touch-sensitive display is heated, making it ideal for cold warehouse operations.

The CV30 is the first fixed-mount computer to let customers choose between Windows Mobile 5.0 and Windows CE 5.0 operating systems, allowing it to fit into your enterprise rather than asking you to adapt your work processes to accommodate it. It also includes Intermec's factory-loaded TE2000 terminal emulation, enabling immediate integration into any enterprise without modifying key legacy applications or retraining users.

At the heart of this rugged computer is wireless connectivity, for unparalleled location and application flexibility. The CV30's integrated 802.11b/g WLAN radio has passed testing for the Cisco Compatible Extensions(CCX) program for simplified application development and seamless interoperability in Cisco infrastructures. The integrated Bluetooth radio supports wireless bar code scanning while eliminating annoying and potentially dangerous cables. Paired with a Bluetooth wireless headset, it enables wireless speech recognition for voice-command picking operations, a revolutionary application for warehouse operations that improves employee productivity and efficiency.

The CV30 is available now in North America, and in the rest of the world in fourth quarter.

SmartSystems provides complete device management
Both the CN3 andCV30 support Intermec's SmartSystems, the ADC industry's most comprehensive system for complete device management. With SmartSystems, installation, routine maintenance or application software updates, security adjustments and device settings can be performed automatically and managed remotely, dramatically reducing field downtime and increasing efficiency.

More from Adhesives & Sealants