Fixed Cord PDUs facilitate cable management and airflow.
Press Release Summary: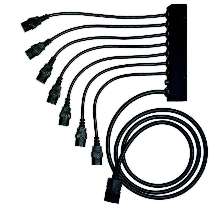 HP Fixed Cord Extension Bars and Fixed Cord PDUs (power distribution units) aid in managing cable clutter in back of rack and improve airflow throughout the enclosure. Made for 1U fixed rail servers, output cords are fixed to PDU extension bar to reduce chances of accidental disconnection. Each output cord is 13 in. long, and there are 7 output cords per extension bar. Fixed cord PDU kits provide up to 28 outlet receptacles and can support up to 42 1U servers.
---
Original Press Release:
HP Eases Cable Management and Air Flow with Fixed Cord PDUs

(May 4, 2004) With computing density increasing via 1U fixed-rail server and equipment installations, cable management and rack air flow are becoming a concern for facility and IT managers. To solve these tight-spot jams, HP has announced the HP Fixed Cord Extension Bars and Fixed Cord PDUs (power distribution units) to significantly aid in managing cable clutter in the back of the rack, which will result in improved air flow throughout the rack enclosure. Designed exclusively for 1U fixed rail servers, these PDUs offer output cords that are fixed to the PDU extension bar (stick) so that there is one less possible point of accidental disconnection. Each output cord is only 13 inches long (33 cm), and there are seven (7) output cords per extension bar.

Intended for use with a UPS to distribute electrical power, the HP Fixed Cord Extension Bars and Fixed Cord PDUs are available in two configurations - either with a modular PDU core and extension bar sticks, or the extension bar sticks only. For redundant applications, two PDU sticks may be placed side by side to allow independent power sources to reach the same server.

The Fixed Cord PDU Kits provide up to 28 outlet receptacles. This allows customers to plug in as many as 28 power cords into one PDU. Mounting two such PDU sets would deliver a total of 56 outlets. The HP Fixed Cord PDUs can support up to 42 1U servers.

Sold through Authorized Dealers, the HP Fixed Cord PDU and Fixed Cord Extension Bars are available in US and worldwide configurations at an Internet List Price of $399 and $119 respectively and include a limited three-year warranty. Pricing may vary by country or region.

Additional information is available at the Hewlett Packard Web site at www.hp.com/products/ups

Hewlett-Packard Company

20555 State Highway 249

Houston, Texas 77269-2000

1-800-786-7967 or 1-281-370-0670


In the U.S. www.hp.com/products/ups

In Canada: http://thenew.hp.com/country/ca/eng/welcome.html

Robert Moore, HP

Group Marketing Manager for Rack and Power Infrastructure products

Robert.Moore@hp.com

281-514-4408

Or

Jeff Fisher, HP

Product Manager

Jeff.Fisher@hp.com

281-518-0041
More from Mounting & Attaching Products