Fixed Capacitor Assemblies suit 2-200 kvar applications.
Press Release Summary: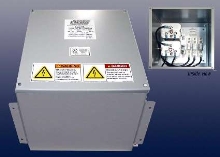 Housed in NEMA 1 enclosure, StacoVAR® Motor Load Fixed Capacitor Assemblies are 3-phase metallized polypropylene with self-healing properties to prevent permanent dielectric breakdown. Impregnation of dielectric fluid provides insulation, corona protection, and moisture barrier, while pressure sensitive circuit interruption allows safe removal of units under heavy fault conditions. External discharge resistors allow voltage to be reduced to 50 V or less in 1 min.
---
Original Press Release:

Introducing StacoVAR® Motor Load Fixed Capacitor Assemblies for Power Factor Improvement for Low Voltage Applications


Dayton, OH - The new StacoVAR ML line of fixed capacitor assemblies provides power factor improvement for applications from 2 to 200 kvar. They are ideal for locations using induction motors or where small multiple loads require reactive compensation. A standard line of low-voltage (240-480-600 VAC) products offers easy ordering and "off-the-shelf" availability. Standard NEMA 1 enclosures include flanges for mounting on floor, wall, or equipment (motor bracket, top of motor control center, etc). All units include a stud or terminal type power line connection for quick, simple installation. The complete assembly is UL 508 listed. Optional fusing and blown fuse indicator lights are available, as are harmonic duty rated capacitors. Larger kvar ratings and other enclosure types can also be manufactured for individual user requirements.

The Capacitors are three-phase metalized polypropylene, which are self-healing to prevent permanent dielectric breakdown. Impregnation of an environmentally friendly dielectric fluid provides added insulation, excellent corona protection and a moisture barrier. Designed for a long service life over a wide temperature range, each capacitor is contained in a steel rectangular "can."

Pressure sensitive circuit interruption is incorporated within the capacitor. This allows safe removal of the unit under heavy fault conditions while maintaining case integrity. External discharge resistors allow voltage to be reduced to 50 volts or less in one minute.

"These products cover the spectrum for low-voltage users looking for power factor improvement," says Chuck Gougler, Manager of Business Development at Staco Energy Products. "A broad list of standard features and available options allows users to select a product that is ideally suited for their installation requirements," continues Gougler, "the resulting power factor correction yields ongoing economic benefits, with improved load efficiency, long after the short payback period."

Staco Energy Products Co., headquartered in Dayton, Ohio, is a major provider of voltage control, power conditioning, power factor/harmonic correction, and UPS systems and technologies. Since 1937, Staco Energy has provided business and industry practical solutions to meet a wide range of power demands.

Staco Energy's new line of power factor and harmonic correction equipment can now be purchased through Staco Energy's network of sales representatives, or by contacting the factory direct at US toll free 866-261-1191, fax at 937-253-1723, or email at sales@stacoenergy.com.

More from Agricultural & Farming Products