Fixed Attenuator Pads suit med- to high-power applications.
Press Release Summary: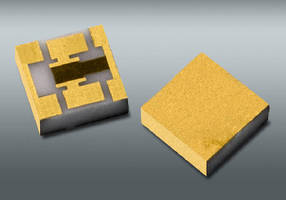 Measuring 0.030 x 0.030 in., Fixed Attenuator Pads are available in range of power handling options from 1–5 W CW. Units offer flat response from DC to 50 GHz, return losses of >18 dB from DC–14 GHz and >16 dB from 15–50 GHz, and temperature stability of <100 ppm. Thin-film technology allows attenuator pads to have full side wraps for SMT installation and complete grounding backside to facilitate attachment. No ground bonding is required.  
---
Original Press Release:

Fixed Attenuator Pads Now Available from SemiGen's RF Supply Center



Manchester, NH – SemiGen, Inc. (www.semigen.net), an ISO and ITAR registered RF/Microwave assembly, automated PCB manufacturing, and RF Supply Center, has announced that a series of fixed attenuator pads are now available from their RF Supply Center.



SemiGen's advanced thin-film technology allows these attenuator pads to have full side wraps for SMT installation and a complete grounding backside for ease in attachment. No ground bonding is required. Top side contacts for the input and output make these ideal for standard RF and microwave assembly techniques. Custom values are easy to fabricate and design allowing users to design in a specific value of choice.



SemiGen fixed attenuator pads come in a range of power handling options from Medium- to High-Power (1W to 5W CW). They offer flat response from DC to 50 GHz, return losses of >18 dB from DC to 14 GHz and >16 dB from 15 to 50 GHz. Temperature stability (TCR) is <100 PPM. The footprint size is 0.030" X 0.030" on most all designs.



For a list of available models, download the full datasheet at: www.semigen.net.



About SemiGen, Inc.

Established in 2009, SemiGen is a contract manufacturing and supply resource for RF/Microwave and PCB related industries. Services include RF hybrid assembly, semiconductor die packaging, automated PCB manufacturing and testing. They're also a fully stocked provider of RF/Microwave bonding supplies and critical diodes and components. Partnering with SemiGen allows component and subsystem suppliers opportunities to reduce manufacturing costs and meet challenging deadlines. Serving the military electronics, commercial device, and medical instrumentation markets, their production line and test department is capable of handling prototype through high volume requirements up through 50 GHz. For more details, visit www.semigen.net



Company Contact:

Jim Morgan

SemiGen, Inc.

jmorgan@semigen.net

603-624-8311

Related