Five-Axis HMC is suited for complex contouring.
Press Release Summary: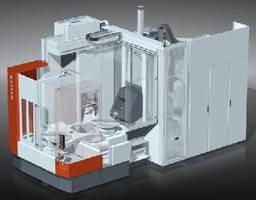 Available in 2 machine types comprising 4 models with 3 possible work-head configurations, F Series offers HSK 63 or No. 40 spindle taper and can perform simultaneous machining in 5 axes. Models FP 2000 and FP 4000 employ pallet changer, while FT 2000 and FT 4000 workshop machines integrate fixed tables. Respectively, 2000 and 4000 models offer X/Y/Z strokes of 630 x 630 x 830 mm and 800 x 800 x 1,000 mm. All axes are ball screw driven, and rapid traverse rates are 2,300+ ipm.
---
Original Press Release:

The New Heller F Series: Setting Robust Standards for 5-Axis Machining Centers



HELLER Machine Tools is adding to its range of cleverly engineered HMC's with the new F Series 5-axis machining centers with HSK 63 or #40 spindle taper and three different work-head configurations. The machines perform simultaneous machining in five axes, ideal for complex contouring.

They join the HELLER H Series machining center range which was introduced in 2007.

According to Tracy Ellis, HELLER Machines Group Sales Manager, the new machines are unique in the industry because they combine a high-torque, powerful spindle with 5-axis machining capability, and thus offer the medical, aerospace, mold and die, power generation industries the option they need to complete complex, difficult-to-machine parts in a single set-up.

The new range, with three different high-performance spindles, are HELLER's response to the need to machine smaller, lighter parts, frequently of tough material such as titanium, and aluminum parts that require high-speed machining. Heller is targeting machining operations in the medical and aerospace fields.

In addition, customers of HELLER receive complete process engineering support from HELLER to achieve optimum performance and low cost per piece. Heller processing expertise is aimed at complex parts, based on wide experience providing effective production solutions to the automotive industry.

"Obviously, our focus industries have wide and varying applications, so the Heller consultative process is quite effective for the user," Ellis said. "Because we are not a 'one size fits all' builder, we work with our customers to be sure we define the right F Series machine based on the type of work to be done, the production requirements, the material to be machined, and the type of CAD/CAM system used by the customer."

Two types - four different models
The new F Series provides customers with the option to choose between two completely different machine types. With models FP 2000 and FP 4000, HELLER offers two newly developed 5-axis machining centers with a pallet changer designed for 5-sided machining-ideal for production houses requiring the highest machine availability and productivity.

And for the first time, HELLER also offers two classic workshop machines with fixed tables: FT 2000 and FT 4000. The machines offer the highest cutting capacity available with the best possible surface finish. Optimum design and accessibility of the work area make these two machines the ideal solution for a wide range of parts in different materials. Use of a C-head or tilting head provides the 5th axis.

Both machine types feature the same axis arrangement as the previously introduced H series, with a rotary table B axis, and provide an optimum balance between rigidity and accessibility. The FT 2000 and FP 2000 models offer X/Y/Z strokes of 630x630x830mm, while the two FT 4000 and FP 4000 models provide greater X/Y/Z strokes of 800x800x1000mm.

Machine dynamics favor high productivity and high cutting capacity. All axes are ball screw driven. Rapid traverse rates are over 2300 ipm with acceleration of nearly 20 fps2. The tool changer, achieving 3.5 second chip-to-chip times, and the rotary tables supporting high payloads of more than 1700 lbs. contribute to reduced cycle times.

The new models are much more than adaptations of the H machines. Although the machines use many components from HELLER's proven modular building block system, machine structure, and axis configuration were specifically designed to meet the particular requirements of 5-axis machining. As a result, users will be able to rely on outstanding milling performance and optimum reliability.

The new 5-axis F Series machines perfectly compliment the larger, proven 5-axis MCH-C machine models, with their swivel head units.

Three high-performance spindles available
At the core of the new machine series is its innovative spindle technology. Customers can choose between three different designs on all models: a Power Cutting high torque universal head, PCU 63 for high-performance cutting, a Speed Cutting universal head, SCU 63 and a Speed Cutting Tilt spindle SCT 63 for high-speed speed cutting.

The two swivel-head units offer numerous advantages for complete machining of cubic parts in a single set-up, and the tilting head is ideal for machining of contoured surfaces of any kind, thus making it the perfect entry into 5-axis simultaneous machining, especially for aerospace and medical applications.

"After intensive market research, Heller engineers determined that the most flexible, robust and efficient way to do 5-face and 5-axis machining is to have one of the axes in the work head," Ellis pointed out. "Using a B-axis table in combination with a universal or tilting work head allows greater table loads, larger working envelops and greater accessibility than 5-axis machines that have two axes of motion under the workpiece, such as a tilt/rotary table or C-over-B type."

Automation tailored to customer requirements
The F series not only provides flexibility in terms of machining strategy, it is also flexible as far as tool management is concerned. Each machining center is equipped with a standard tool magazine that can be extended to more than 400 storage places as an option. Even oversize or extra long tools are not a problem.

When it comes to automation, compatibility with the H series is a major advantage. Customers can add to their productivity using all available HELLER automation systems, including pallet pool, pallet magazines, and robotic solutions.

Users have a choice of controls: Siemens Sinumeric 840D or the easy-to-use Heidenhain iTNC530.

Heller has a history of developing the tools industry requires as the need is identified. The F-series is no different, Ellis said.

"We develop the machining technology industry requires when industry needs it. There are, for sure, many different 5-axis solutions available on the market. Given the continuing need for 5-axis and considering the technology already in the field, we have the opportunity to review the present state of the art and ultimately build what's best for industry," Ellis concluded.

More from Electrical Equipment & Systems