Five-Axis Gantry Mill is built for tall part manufacturing.
Press Release Summary: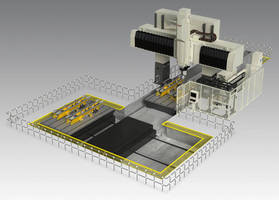 Designed to minimize downtime, part reorientation, and setup, adjustable-rail U6 Series enables 5-axis machining and contouring with automatically interchangeable heads. It can be configured with Y-axis up to 29.5 ft, and adjustable W-axis provides up to 16.4 ft of vertical travel to complement up to 8.2 ft Z-axis ram. Latter, with 25.6 x 29.5 in. rectangular cross section, supports multiple head configurations and spindle power options, while linear feed rates reach 787 ipm.
---
Original Press Release:

5-Axis Gantry Mill Raises the Bar for Tall Part Manufacturing



Adjustable cross rail extends vertical work zone to machine parts up to 7.5 m high, increases stiffness and improves flexibility with five-sided and five-axis productivity for large part manufacturers

MAG adds a new dimension to its universal gantry mills with the new adjustable-rail U6 Series, providing a vertical W-axis to accommodate extremely tall parts. The U6 universal machining center is engineered to bring the lean machining revolution to large, high-value, complex-geometry parts, enabling 5-axis machining and contouring with automatically interchangeable heads to minimize machine downtime, part reorientations and set-ups. The machine's robust construction makes it ideal for heavy, tough cuts in big parts of steel, titanium, crusty forgings or aluminum. Wide application versatility delivers greater throughput and processing efficiencies to "large part" manufacturers in aerospace, off-road and heavy equipment, energy, die-mold, marine and mining.

The U6 can be configured with a massive cross rail (Y-axis) up to 9 m (29.5 ft), while the adjustable W-axis optimizes machine stiffness and provides up to 5 m (16.4 ft) of vertical travel to complement the up to 2.5 m (8.2 ft) Z-axis ram. The combination of WZ- and Y-axes offers a height and width range up to 7.5 x 9 m (24.6 x 29.5 ft) to accommodate machining in the extreme limits of the work zone, or provide clearance to maneuver over extremely large workpieces. The heavy-duty Z-axis ram, with 650 x 750 mm (25.6 x 29.5 in) rectangular cross section, supports multiple head configurations and spindle power options, while linear feed rates up to 20 m/min (787 ipm) enable fast response in heavy cuts on hard metals. The U6 design allows the cross rail to be positioned close to the part for machining with minimal ram extension and maximum stiffness for extreme accuracy. As options, the U6 is offered with a choice of 1 m, 1.5 m, 2 m and 2.5 m rams for best fit to processing needs.

The U6 universal machining center, available in bridge-type and rail-type platforms, is adaptable to accommodate a wide range of part size and shape requirements. The U6B bridge-type gantry utilizes a stationary support and optional X-axis pallet shuttle system that moves the part to coordinates on precision linear guide ways with rack-and-pinion drives for smooth, precise movement at high thrust levels. Available with a broad range of table and pallet shuttle systems, the U6 bridge-type can be equipped for single or multi-pallet operation to maximize cutting time during part load/unload. The U6R rail-type offers unlimited X-axis travel, and is expandable to fit the application.

The U6 can be outfitted with a range of high-torque or high-speed spindles, up to 74.5 kW (100 hp) and up to 24,000 rpm, choice of tapers, and vertical, horizontal or 5-axis head configurations to cover the spectrum of machining requirements. Automatic head change takes less than two minutes, and five-axis and horizontal heads feature continuous C-axis to keep the spindle in-cut without running out of C-axis travel or waiting for unwind. Custom head configurations are also available. Heads store in their own cradle within a separate headstand located just outside the work zone for easy access. Automatic head change can be integrated with a tool storage module to provide auto-positioning changes and minimize cycle time for changing tools or exchanging heads. Tool magazines are expandable, with options for storage for up to 120 tools on the bridge/moving table machine and 63 tools on the rail machine.

The U6 provides superior precision on critical parts with repeatability of 0.038 mm (0.0015 in) in the X axis, 0.008 mm (0.00031 in) the Y and Z axes, and 14 arc second accuracy in C axis. Feedrates up to 20 m/min (787 ipm) optimize processing efficiencies on large part surfaces.

Standard module options include choice of Fanuc or Siemens controls, a bridge/moving table or rail/moving gantry platform, single or dual-spindles, automatic tool change, and automatic head change - making the U6 an ideal, customizable solution for large prismatic part manufacturers looking for heavy-duty manufacturing capacity

About MAG
MAG is a leading machine tool and systems company serving the durable goods industry worldwide with complete manufacturing solutions for metal cutting and composites applications. With a strong foundation based upon renowned brands such as Boehringer, Cincinnati, Cross Hüller, Ex-Cell-O, Fadal, Giddings & Lewis, Hessapp, Honsberg, Hüller Hille and Witzig & Frank, MAG is recognized as the preeminent provider of tailored production solutions based on state-of-the-art technology. Key industrial markets served include aerospace, automotive and truck, heavy equipment, oil and gas, rail, solar energy, wind turbine production and general machining.

With manufacturing and support operations strategically located worldwide, MAG offers comprehensive lines of equipment and technologies including turning, milling, hobbing, grinding, honing, systems integration, composites processing, maintenance, automation and software, tooling and fluids, and core components.

For more information about MAG, please visit: www.mag-ias.com

More from Packaging Products & Equipment