Five-Axis Dental Mill is operated by Apple iPad.
Press Release Summary: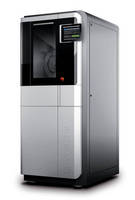 DATRON D5 Dental Mill features 5-axis automation system that holds up to 8 material blanks and loads and unloads blanks for unattended operation. Cast iron machine has 7 dynamic servo drives, horizontally-mounted industrial spindle, lubrication system, and dust collection. Also included is 13-station tool changer with tool-length and tool-break sensors. All functions are controlled via Apple iPad and system's control software interfaces with all standard scanning systems and CAD/CAM packages.
---
Original Press Release:

DATRON Releases the D5 Dental Mill - Designed Exclusively for Dental Applications



Milford, NH - Datron Dynamics, Inc. has announced the release of the DATRON D5 Dental Mill. This 5-axis, high-speed machining center was designed specifically and exclusively for dental milling applications including crowns, bridges, abutments, inlays, onlays, telescopes, implants, bar work and even models. A rigid cast iron construction houses a fully-integrated 5-axis automation system built to hold up to 8 material blanks or "pucks" frequently used by dental labs. This integrated 8-piece handling system loads and unloads blanks for un-attended operation. Finished blanks can be unloaded from the machine while the machine is running. The DATRON D5 is optimized for the efficient machining of common dental materials such as NEM, titanium, chrome-cobalt, zirconium, PMMA, wax, ceramics and dental gypsum.

This machine has 7 dynamic servo drives, cast construction, horizontally-mounted industrial spindle, all of which produce superior and ultra precise parts. The D5 is the first and only machining center in the world to feature a user-friendly touch-screen Apple iPad to control all machine functions. The control software is an open architecture capable of interfacing with all standard scanning systems and CAD/CAM packages. Even the size of the machine was dictated by the needs of dental laboratories and the D5 can fit through a standard 36"x 80" commercial door. The D5 has an integrated lubrication system and dust collection to handle any material being processed. Made in Germany, this machine was launched last month to critical acclaim - winning the prestigious Red Dot Design Award for Best Industrial Design.

The D5's touch operator interface (Apple iPad) enables very simple programming of the DATRON Dental software. Since the Apple iPad is removable and can be taken off of the machining center, machine operations and job status can be monitored remotely even from a distance. For example, by activating the Live View button, the iPad screen shows the machining area. A camera mounted inside the machine transmits the image to the removable iPad screen. This feature allows the operator to check the production status of the machine from another location, such as an office, or perhaps a ceramic station.

Within the D5 machining software, the milling data generated by the CAM module is constantly synchronized with the job manager and activated when necessary. Simple Touch functions can link jobs together according to priority and deadline, or they can be run independently if preferred. Integrated blank management stores a library of data about the type and strength of the various materials comprising each individual blank (puck) housed within the automation unit. A plausibility examination is completed before any milling procedure begins. Tool data defining each tool type allows for the simple selection of tools by the CAM module. Based on the function and machining time for which the tool will be employed, a pre-defined tool exchange (replacement) is scheduled - thereby ensuring ongoing quality control even during unattended operations. An integrated 13-station tool changer features tool-length and tool-break sensors. The milling tools and lubricant provided with the D5 which have been tested and optimized for superior tool life. The turning center of the rotary axis lies directly in the center of the material blank being milled which leads to tremendous rigidity - and contributes considerably to extremely high manufacturing accuracies.

In 2010 more than 12,000 Red Dot Design Award submissions came in from more than 60 countries, making Red Dot the largest and most renowned design competition in the world. As a 2010 winner for the D5 Dental Mill, Datron now stands alongside companies like Apple, Mercedes Benz and Nokia for outstanding product design.

About Datron: Datron Dynamics is the North American affiliate of DATRON AG, a German technology firm established in 1969 that has become a leader in the design and development of CNC machining and dispensing systems. Founded in 1996 by President, William King, Datron Dynamics is differentiated in the marketplace by its focus on high-speed machining with micro-tooling. Datron machines feature 30,000-60,000 RPM spindles that produce low force and superior quality when using intricate tooling. An Ethanol-Mist Coolant System(TM)

provides superb surface finishes and eliminates secondary processes like de-burring and de-greasing. Other features such as the Z-Correction Probe(TM), Automatic Tool Management System(TM) and their proprietary Quick-Pallets(TM) and VacuMate(TM) workholding systems enable batch machining and "lights-out" production. These distinctions have resulted in thousands of installations worldwide within industries requiring superior production of electronic housings, embossing dies, firearm engraving, rapid prototyping, 3D precision engraving, electronic panels and the production of electro-mechanical and aerospace parts.

About Red Dot Design Award: The prestigious red dot is the international award for high industrial design quality that has been a standard since 1955. Only products that clearly stand out from comparable products due to their outstanding design receive the sought-after quality seal from the international red dot jury. The red dot label has established itself as a global mark of quality. Only winners of the award can use the label and have the right to use the logo for the entire life cycle of the prize-winning product. In 2010 with more than 12,000 submissions from more than 60 countries, the international "red dot design award" is the largest and most renowned design competition in the world.

For more information on Datron, contact Robert Murphy at Datron Dynamics, Inc., 115 Emerson Road, Milford, NH 03055, 888-262-2833 or visit www.datron.com.

More from Fluid & Gas Flow Equipment