Fittings eliminate leaks in hydraulic systems.
Press Release Summary: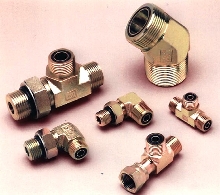 O-ring face-seal fittings, available in 23 configurations and 35 different size combinations, permit operating pressures as high as 6,000 psi. They can be connected to range of tubing grades by silver brazing. Fittings are suitable for sub-zero to high-temperature applications, and are resistant to vibration and shock conditions. They meet or exceed design and performance requirements of SAE J1453.
---
Original Press Release:
Forged O-Ring Face-Seal Fittings Available From Brennan Industries

SOLON, OH - April 2002 - Brennan Industries, the leading supplier of hydraulic fittings and adapters since 1953, is offering forged O-ring face-seal fittings product line.

O-ring face-seal fittings eliminate leaks in hydraulic systems, while permitting operating pressures as high as 6,000 psi. Developed for hydraulic systems on both industrial and commercial equipment, the product line is available in 23 different configurations, and in 35 different size combinations.

Brennan's O-ring face-seal fittings are designed specifically for applications where elastomeric seals are acceptable to overcome leakage and variations in assembly procedures. The fittings can easily be connected to a range of tubing grades by silver brazing. In addition, the fittings can easily be disassembled and reassembled.

The product line is available in custom sizes, configurations and materials upon request. The fittings are suitable for sub-zero to high-temperature applications, and are field proven to be resistant to vibration and shock conditions.

Brennan's forged O-ring face-seal fittings are manufactured under tight quality control to ensure that they meet or exceed all the design and performance requirements of SAE J1453.

Brennan offers more than 10,000 different standard and special products in sizes ranging from 1/8" to 2-1/2". These include pipe and straight thread fittings, O-ring face-seal fittings, 37 deg flare tube fittings, bite-type fittings, international fittings and adapter unions. Most are available in carbon steel, stainless steel and brass.

Brennan Industries is headquartered at 6701 Cochran Road, Solon (Cleveland), OH 44139. In addition to its Cleveland headquarters, Brennan has stocking warehouses in five strategic
locations: Atlanta, Cleveland, Dallas, Los Angeles and Seattle. Phone: (440)-248-1880. Toll free: (888) 331-1523. Fax: (440) 248-7282. www.brennaninc.com

Please send all inquiries to Don Ziegler, Brennan Industries, 6701 Cochran Road, Solon, OH 44139.

633 West Bagley Road; Berea, OH 44017; 440.234.1812; Fax:440.234.1890; www.sonnhalter.com
More from Controls & Controllers