Fishfinder/Chartplotter Displays integrate CHIRP technology.
Press Release Summary: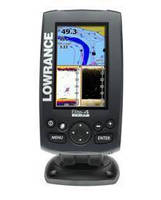 Respectively featuring 4.3 in., Hi-Res, grayscale and color displays, Mark-4 and Elite-4 CHIRP series combine CHIRP Sonar with DownScan Imaging™ technology; daylight-viewable, LED-backlit display; built-in GPS antenna; and HD mapping options. CHIRP sonar technology improves target resolution and noise rejection to provide clear, viewable targets. By using DownScan Imaging view, anglers are provided with picture-like images of fish-holding structure beneath boat.
---
Original Press Release:

Lowrance® Releases Feature-Packed Mark-4 and Elite-4 CHIRP Series



Marine Electronics Manufacturer Launches Affordable 4-Inch Fishfinder/Chartplotter Models with CHIRP Sonar Functionality



Tulsa, Okla. – Lowrance®, a world-leading brand in fishing electronics since 1957 — announced today the launch of the Mark-4 and Elite-4 CHIRP series, the latest in a lineup of award-winning EliteTM fishfinder/chartplotter displays. The all-new, easy-to-use Mark-4 and Elite-4 combine CHIRP Sonar with DownScan Imaging™ technology, a super-bright, daylight-viewable, LED-backlit display, built-in GPS antenna and high-definition mapping options – all at affordable prices.



Featuring a Lowrance-exclusive, 4.3-inch, high-resolution display – in grayscale or color, respectively – the Mark-4 and Elite-4 CHIRP models include all of the features of the Mark-4 and Elite-4 HDI Series with the addition of CHIRP sonar technology, which provides improved target resolution and superior noise rejection for clearer, easy-to-see baitfish and game fish targets. Anglers can also select a DownScan Imaging view, which provides picture-like images of fish-holding structure beneath the boat.



Utilizing the exclusive Lowrance DownScan Overlay™, anglers can combine DownScan Imaging views with CHIRP sonar to separate fish targets from surrounding structure. Advanced Signal Processing (ASP), another Lowrance exclusive, reduces the need to manually adjust settings to see fish, structure and bottom detail more clearly. TrackBackTM feature allows anglers to scroll back in recorded sonar history and review structure, transitions and fish targets to designate locations with a waypoint.



The Mark-4 and Elite-4 CHIRP multi-window display allows anglers to choose from pre-set page layouts including a three-panel view. An easy-to-use page selector menu system provides quick access to all features using one-thumb operation.



The Elite-4 CHIRP features a highly accurate, built-in GPS antenna and a detailed U.S. background map with more than 3,000 lakes and rivers, plus coastal contours to 1,000 ft. A micro SD card can be used to display Lake Insight™ and Nautic Insight™ HD and PRO cartography, as well as Navionics® Gold, HotMaps® Premium, Fishing Hotspots® PRO and Jeppesen C-Map Max-N charts. The Elite-4 CHIRP is compatible with the Insight Genesis™ map-creation service, which allows users to make custom, high-resolution contour maps from recorded sonar logs, including bottom-hardness and vegetation overlays, as well as Insight Genesis Social Map community chart sharing.



"Launching the Mark-4 and Elite-4 CHIRP Series represents a key milestone for Lowrance," said Leif Ottosson, CEO, Navico. "With this launch, all of the products in our standalone Elite series – from 9- to 4-inch display sizes – now have the benefit of CHIRP sonar technology. This is just another example of how Lowrance continues to bring affordable features with meaningful benefits to a growing number of fishermen around the world."



The new Elite-4 CHIRP series offers a choice of 83/200 kHz HDI or 50/200 kHz HDI transducer-pack options with depth capabilities to 1,000 and 3,000 feet, respectively. An Elite-4x CHIRP fishfinder-only model is available as well as an Elite-4 Navionics+ bundle that includes high-definition cartography featuring U.S., Canada, Alaska, coastal Bahamas, Great Lakes and major Canadian lakes detail. Elite-4 CHIRP IceMachine models can also be purchased as a combo unit or standalone-fishfinder, and deliver 20-degree sonar coverage down to 1,000 feet (305-meters) with an included custom, weighted, ice-fishing transducer and unique float system. IceMachine units feature a weatherproof, soft-sided pack with easy-to-find, front- and rear-zipped access, an adjustable display platform for easy viewing and two StowAway® utility boxes.



Protected by the Lowrance Advantage Service program, the Elite-4 CHIRP can be purchased from authorized Lowrance dealers and distributors throughout the United States and Canada for $299 (83/200 kHz) and $399 (50/200kHz). The Mark-4 CHIRP will be available for $229 (83/200 kHz) and $329 (50/200kHz).



For more information on the Lowrance Elite-4 CHIRP series (including pricing for Elite-4x, Elite-4 Nav+, Elite-4 IceMachine and Elite-4x IceMachine models), the Mark-4, the entire Lowrance line of marine electronics, or to locate an authorized Lowrance dealer, please visit www.lowrance.com.



About Lowrance: The Lowrance® brand is wholly owned by Navico, Inc. A privately held, international corporation, Navico is currently the world's largest marine electronics company, and is the parent company to leading marine electronics brands: Lowrance, Simrad Yachting, B&G and GoFree. Navico has approximately 1,500 employees globally and distribution in more than 100 countries worldwide. www.navico.com

More from Computer Hardware & Peripherals