Fishfinder and Chartplotter feature 4.3 in. displays.
Press Release Summary: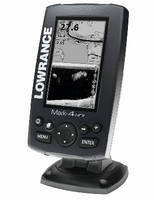 Featuring color and grayscale displays, respectively, Elite-4 HDI and Mark-4 HDI models are available in fishfinder-only, chartplotter-only, and fishfinder/chartplotter combo versions. Units feature built-in GPS antenna and high-definition mapping options. Hybrid Dual Imaging technology combines Broadband Sounder™ for marking fish arches and tracking lure action, with Downscan Imaging which provides picture-like views of structure and bottom detail.
---
Original Press Release:

Lowrance Introduces Elite-4 and Mark-4 HDI Series



Value-Packed Standalone Fishfinder, Chartplotter and Combo Models with Hybrid Dual ImagingTM Now on Larger, Brilliant 4.3-inch High-Resolution Displays



Tulsa, Okla. — Lowrance, a world-leading brand in marine electronics since 1957 and GPS navigational systems since 1992 — announced today the newest addition to its Elite and Mark family of compact fishfinder and chartplotter products, the Elite-4 and Mark-4 Hybrid Dual Imaging™ (HDI) series. Setting a new performance standard for affordably priced navigation and fishfinder electronics, the new HDI units feature a built-in GPS antenna, high-definition mapping options, and the Lowrance exclusive Hybrid Dual Imaging technology that combines Broadband SounderTM and Downscan Imaging for the best possible view beneath your boat.



Replacing previous Lowrance Elite-4 and Mark-4 models, the larger and super-bright Elite 4.3-inch color and Mark grayscale displays have 70-percent more pixels and 36-percent more useable screen area. Available in fishfinder-only, chartplotter-only (HD) and fishfinder/chartplotter combo models, the new addition to the Lowrance HDI series offers a full selection of top-performing sonar and navigation features in an easy-to-operate, space-saving design.



Built into the new Lowrance HDI Skimmer® transducer design, Broadband Sounder technology is ideal for marking fish arches and tracking lure action, while Downscan Imaging provides easy-to-understand, picture-like views of structure and bottom detail. With the exclusive Lowrance Downscan Overlay feature, boaters can combine the Downscan Imaging view with the Broadband Sounder recording for a stunning presentation that separates and clearly exposes fish targets from surrounding structure. Overlay transparency is fully adjustable.



Lowrance's Advanced Signal Processing (ASP) maximizes fishing time by reducing the need to manually adjust settings to see fish, structure and bottom detail more clearly. Exclusive TrackBackTM functionality allows anglers to scroll back in recorded sonar history to review structure, transitions and fish targets, and pinpoint locations with a waypoint (on chartplotter models) — eliminating the need to circle back and retrace their path.



Elite-4 and Mark-4 HDI models with chartplotter capability feature a highly accurate built-in GPS antenna and a detailed U.S. map featuring more than 3,000 lakes and rivers, and coastal contours to depths of 1,000 ft. A micro SD card can be used to display Lake Insight™ and Nautic Insight™ HD and PRO cartography, as well as Navionics® Gold, HotMaps® Premium, Fishing Hotspots® PRO and Jeppesen C-Map MAX-N charts. All HDI/HD chartplotter models are compatible with the new online Insight Genesis™ map creation service, which allows users to make their own custom, high-resolution contour, bottom hardness and vegetation maps from recorded sonar logs.



"We pride ourselves on offering Lowrance's most innovative fishfinding and chartplotting capabilities to all anglers — at every budget level," said Leif Ottosson, CEO, Navico. "The new Elite-4 and Mark-4 HDI models provide powerful navigation and our popular HDI fishfinding technology — combined with a larger, compact display — so anglers looking for an affordable, space-saving unit now have a variety of options that will exceed their expectations on the water."



The Elite-4 HDI and Mark-4 HDI models feature Lowrance-exclusive, high-resolution 4.3-inch, color and grayscale displays, respectively, and employ an easy-to-use menu system with quick one-thumb operation. Multi-window display options, which show a variety of sonar imaging/chartplotter screen configurations, are easy to access thru preset page layouts that include a three-panel view with chart, Broadband Sounder and DownScan Imaging.



The Elite-4 HDI line consists of Elite-4x HDI fishfinder-only, Elite-4m HD chartplotter-only and Elite-4 HDI combination models. The Mark-4 HDI is available as a fishfinder/chartplotter combination unit only. An Elite-4 HDI Gold bundle model includes Navionics® Gold cartography featuring U.S./Canada coastal, Great Lakes and major Canadian lakes detail. Available only in Canada, and Central and South America, the Elite-4 HDI with Jeppesen C-MAP MAX-N cartography bundle features nav aids, bathymetric contours, spot soundings and more, with coverage of North, Central and South America.



Elite-4 HDI and Mark-4 HDI models, with the 83/200 kHz Skimmer transducer, are suited for inland fishing and can reach a depth of 1,000 feet. Models featuring the 50/200 kHz Skimmer transducer, ideal for deeper coastal and Great Lakes applications, are capable of reaching depths of 2,500 feet. DownScan Imaging depth capability on both models has a maximum range of 300 feet. Optional accessories include a series of bronze thru-hull HDI transducers, a trolling-motor transducer adapter kit and a flush-mount kit. All Airmar® transducers used with Lowrance HDS models are also compatible.



Protected by a one-year limited warranty and the Lowrance Advantage Service program, the Elite-4 and Mark-4 HDI series can be purchased from authorized Lowrance dealers and distributors throughout the United States and Canada beginning in January 2014. Lowrance Elite-4 HDI models range in price from $149 to $469, and the Mark-4 HDI fishfinder/chartplotter can be purchased for as low as $179 without a transducer, to $329 for the Mark HDI fishfinder/chartplotter with a 50/200 kHz transducer. For more information on the Lowrance Elite-4 and Mark-4 HDI series, the entire Lowrance line of marine electronics, or to locate an authorized Lowrance dealer, please visit www.lowrance.com.



About Lowrance: The Lowrance® brand is wholly owned by Navico, Inc. A privately held, international corporation, Navico is currently the world's largest marine electronics company, and is the parent company to leading marine electronics brands: Lowrance, Simrad Yachting and B&G. Navico has approximately 1,500 employees globally and distribution in more than 100 countries worldwide. www.navico.com

Related