First Use of Laser-Sintered PEEK for Craniofacial Implants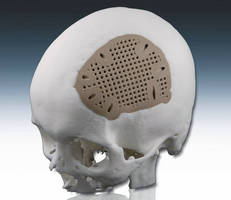 The first PEEK craniofacial test implants to be produced by the laser-sintering additive manufacturing process were presented by EOS at the co-located Pacific Design & Manufacturing / MD&M (Medical Design & Manufacturing) West shows at the Anaheim Convention Center, California, in February 2011.

EOS' Collaborative Projects Coordinator, Joerg Lenz, delivered a previously unpublished technical paper on results from a European Union-funded project called Custom-IMD (www.customimd.eu). Core project activities include the development of new biomaterials and rapid manufacturing technologies that will allow customised implants to be delivered to surgeons within a 48 hour time frame.

Entitled "Laser Sintering of PEEK", Lenz's paper described plastic test implants fabricated at EOS' headquarters in Germany using the EOSINT P 800 system, the first laser-sintering system capable of operating at up to 385 degrees C for processing high-performance polymers.

High-temperature, biocompatible PEEK (polyaryletherketone) is increasingly used as an alternative to titanium for craniofacial implants, which are produced from CT-scan geometry for patients with head injuries or congenital deformities. The paper documented the first validated in vivo (animal) results for laser-sintered PEEK.

"Conventional manufacturing technologies are not able to produce patient-customised craniofacial implants, either titanium or PEEK, as economically or in as short a time span as laser-sintering," said Lenz.

"What is more, EOS technology has enabled us to develop a specific geometry that can only be achieved using additive manufacturing. The new design incorporates a mesh scaffold that promotes improved bone growth and optimises infiltration with a hydroxyapatite-filled, bio-absorbable polymer."

Implants displayed on the EOS stand at the show included one filled with the polymer.

Lenz serves on a number of international standardisation organisations, including ASTM Committee F42 on additive manufacturing technologies. PEEK-implant animal studies continue through the EU-funded project and human trials are planned for the future.

The implant pictured was designed by a team at AZM (the University Hospital Maastricht, The Netherlands) headed by Dr Jules Poukens. A patent for the network of holes in the mesh scaffold has been applied for.

Scott Killian of Royal Engineered Composites, the first American user of the P 800, was on the EOS stand to discuss his company's use of the machine and show sample geometries of PEEK medical and aerospace parts. There was a working FORMIGA P 100 laser-sintering system as well as metal parts produced with direct metal laser-sintering (DMLS).

EOS was founded in 1989 and is today the world's leading manufacturer of laser-sintering systems. Laser-sintering is the key technology for e-Manufacturing, the fast, flexible and cost effective production of products, patterns and tools. The technology manufactures parts for every phase of the product life cycle, directly from electronic data. Laser-sintering accelerates product development and optimises production processes. EOS completed its business year 2009/2010 with revenues of 64 million Euros. The company employs 300 people worldwide, 250 of them in Krailling near Munich, Germany. For more information visit www.eos.info

EOS Electro Optical Systems Ltd,

The Innovation Centre, Warwick Technology Park,

Gallows Hill, Warwick, CV34 6UW.

Tel: 01926 623107. Fax: 01926 623108.

E-mail: stuart.jackson@eos.info

Web site: www.eos.info

Contact: Stuart Jackson, Regional Manager, UK & Eire.

THE RIGHT IMAGE Ltd,

PO Box 42, Twickenham, TW1 1BQ.

Tel: 020 8891 0603.

E-mail: therightimage@aol.com

Contact: Chris Wright.

Related