First Installation of Everite's ElectroChemical Grinding Machine in Saudi Arabia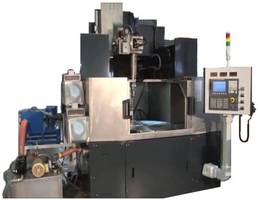 Everite is excited to announce our first ElectroChemical grinding machine installation in Saudi Arabia. Everite technicians travelled to Saudi Arabia in August to install our largest ECG Vertical Grinder, model VG1000, standing at over 12 feet tall and over 12 feet wide, this machine weighs 44,200 lbs. 
This machine was delivered to a remote location within the country to a new factory for MEPC (Middle East Propulsion Company, Ltd) which was awarded a large contract by Hanwha for an aircraft application. The machine will be used to produce parts for an aviation gas turbine application for rotary wing aircrafts.
The machine's travel was a long one, leaving our Pennsauken, NJ facility the end of April 2017 and arriving mid August 2017. The machine handled the ocean and desert terrain extremely well and arrived in perfect condition for our technicians to install into the designated spot.
Our technicians worked with the customer's personnel to install the electrical and air lines for the machine. Due to where the designated spot for the machine, the equipment normally used to move these machines were not able to fit into the space. The machine was moved into its final place manually by several men (including Everite technicians Brian Reid and Steve Lippincott). Everything was powered up and training of personnel was completed over a course of several days.
To learn more about our VG1000 ECG Vertical Grinder, click here: http://www.everite.com/vg1000/. If you have any questions on whether this machine would work for your application, please contact us.
More from Explosives, Armaments, and Weaponry