First Fully Automated Catheter Tipping System Unveiled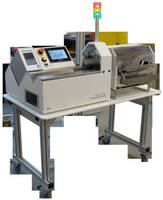 ASG Medical Systems and SEBRA Demonstrating Breakthrough Device at 2010 MD&M West in Anaheim, CA

Tucson, AZ - ASG Medical Systems and SEBRA are proud to announce their Automated Tipping System (ATS), the first fully automated device of its type.

The ATS effectively doubles the capacity of the equipment involved, providing an excellent return on investment. It does this by seriously reducing labor costs, executing multiple processes per part. It also improves output quality since each component is processed with clean, square cuts and precise lengths.

"This prototype shows how, through cooperation and innovation, our two companies are bringing serious advances to the marketplace," stated SEBRA President and CEO Roger Vogel.

The ATS will be demonstrated at SEBRA's MD&M West booth (#2413), and orders for the device are now being accepted by calling SEBRA Sales at 800-625-5550 or 520-881-6555.

Ease of set up and use are improved by ATS since the new high-resolution color touch screen extends SEBRA's recipe system to include all automated feeding and processing functions. This means operator data entry is unnecessary.

"The automation that ATS provides, such as the loading of catheters and the cutting and loading of the separate soft tips into the tipping process, have always been separate, manual processes," stated Dan Woodward, general partner and director of technology at ASG. "The ATS really does provide significant labor savings because of the automation built right into the system," added Paul Ogden, general partner and director of sales at ASG.

The ATS provides fully automatic, bin-to-bin operation by coupling SEBRA's powerful Saffire ® RF tipping technology with ASG's Accu-Cut tube cutting and Accu-Feed tube feeding technologies. In fact, it performs any combination of thermal tipping, including:

o Necking and flaring,

o Singulation (automated cut to length),

o Assembly,

o Thermal bonding of two catheter materials, for soft tip applications, and

o Precision cut to length.

ASG Medical Systems and SEBRA invite interested parties to visit the SEBRA booth (#2413) at MD&M West, to see the new Automated Tipping System (ATS), in action.

About ASG Medical Systems

ASG Medical Systems, located in West Palm Beach, Florida, develops, manufactures and sells the finest precision automated equipment for catheter, guidewire and tubing manufacturing and medical device assemblies. ASG tubing and guidewire cutters, feeders, testers, and custom automation machines are renowned among the major manufacturers for their accuracy, reliability, and longevity in feeding, measuring, testing, handling and processing across a wide variety of systems and manufacturing processes. Visit ASG on the web at www.asgmedical.com

About SEBRA

SEBRA (Engineering and Research Associates), incorporated in 1974 and located in Tucson, AZ, is a thriving enterprise which designs, patents, develops and manufactures a variety of high quality medical device manufacturing systems. SEBRA employs thermoplastic welding equipment that uses radio frequency to form and weld precision medical catheters and to weld balloons on catheters. This product line includes generators, tipping/welding platforms, molds, expansion modules and programmable timing modules. SEBRA also employs radio frequency equipment that can weld and form dielectric plastics for a wide variety of uses in medical and industrial manufacturing. This product line includes generators, tube sealers and welding fixtures. Visit SEBRA on the web at www.sebra.com.

More from Software