FireWire Module has data transfer rate to 800 Mbps.
Press Release Summary: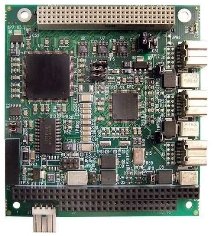 Fast1394(TM) PC/104-Plus IEEE-1394b Controller is suited for data acquisition from audio, video, and storage peripherals in embedded computer systems. It integrates 3 plug-and-play bilingual cable ports, which are galvanically isolated between transceiver and link controller. Link layer and physical controllers integrate intelligent power management capabilities, deep transmit and receive FIFOs, support for digital video and MPEG data stream reception/transmission.
---
Original Press Release:

Parvus Announces Availability of Isolated 800Mbps FireWire Module for Embedded Computer Systems


Parvus Releases New PC/104-Plus FireWire (IEEE-1394b) Controller for High-Speed Data Acquisition from Audio, Video and Storage Peripherals

SALT LAKE CITY - January 10, 2005 - Parvus® Corp. today announced that its new Fast1394(TM) PC/104-Plus FireWire card is now shipping. This high performance IEEE-1394b controller module supports the advanced features of the new IEEE-1394b (2002) serial bus with data transfer rates of up to 800Mbits/s over three (3) plug-and-play bilingual cable ports galvanically isolated between the transceiver and link controller.

Designed for high-speed data acquisition across the FireWire® bus for audio, video and storage devices in embedded computer systems, this rugged PC/104-Plus form-factor card is fully compliant with the Open Host Controller Interface (OHCI) v1.1 specification. It is built with reliable link layer and physical controllers, which integrate intelligent power management capabilities, deep transmit and receive FIFOs (to buffer 1394 data), as well as enhancements to better support digital video (DV) and MPEG data stream reception and transmission.

Supporting hot pluggable connections, the Fast1394 card provides automatic detection and configuration. It has an onboard auxiliary power connector for extra power input from the system power supply to the 1394b connectors and is capable of supplying up to 45 watts of power to external peripherals via a 1394 cable. The unit requires a single 5V power supply and comes in standard (0ºC to +70ºC) and extended temperature versions (-40°C to +85°C).

When combined with a Parvus PC/104-Plus CPU module, the Fast1394 module provides OEMs and system integrators with a powerful, complete computing solution designed for applications that take advantage of IEEE-1394b technology to rapidly transfer high levels of data. Potential applications include real-time industrial control and manufacturing automation, digital video and multimedia data acquisition, portable/mobile data storage, medical/industrial imaging, in-vehicle electronics networking, simulation, robotics, and aviation computing systems, among others.

PRICING AND AVAILABILITY

This product is currently in stock and is priced at $192/each in volume of 100+ units.

ABOUT PARVUS

Since 1983, Parvus Corporation has been a strategic systems engineering and development partner for aerospace, defense, transportation, and industrial OEMs. Specializing in the rapid design and production of turnkey embedded computing solutions for harsh environments, Parvus leverages extensive expertise in systems integration and a complete line of rugged PC/104, PC/104-Plus, and PCI-104 computer modules to ensure high reliability and accelerate time-to-market for its customers. Visit www.parvus.com or call 801.483.1533 for more information.