Firewalls protect edge, core, and data center networks.
Press Release Summary: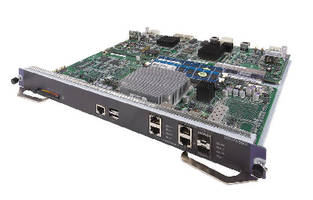 Delivering scalable threat protection against business disruptions and potential revenue loss, H3C SecPath F-Series stand-alone appliances offer performance ranging from 200 Mbps to 40 Gbps, while H3C® SecBlade VPN Firewalls offer 6.5-8 Gbps performance per blade. Units provide stateful packet inspection firewall filtering and can look inside encrypted IPsec VPN tunnels for attacks. Firewalls can also prioritize traffic based on policies and block specific traffic.
---
Original Press Release:

3Com Builds on Defense-in-Depth Security Architecture with New H3C VPN Firewalls for Edge, Core, and Data Center Network Protection



H3C SecPath F-Series and H3C SecBlade VPN Firewalls provide advanced threat protection for large enterprise environments using less rack space and power

Hemel Hempstead, UK - 1st September 2009 - 3Com Corporation (Nasdaq: COMS) today introduced the H3C SecPath F-Series and H3C® SecBlade VPN Firewalls. These new VPN firewalls deliver advanced, scalable, threat protection against business disruptions, potential revenue loss and damage to an organization's reputation caused by security breaches. The new products provide industry leading price-performance and scalability in a future-proof architecture that reduces the total cost of ownership (TCO). While providing best-in-class performance, the systems take a fraction of the space and power of the leading competition.

Intended for enterprise edge, core, data center and high-speed computing environments, the new firewalls come in appliance and blade form factors and are currently undergoing ICSA Labs certification. The H3C SecPath F-Series and H3C SecBlade VPN Firewalls represent 3Com's initial product announcements as part of its security strategy to deliver a Secure Network Fabric through unified, high performance, network-embedded security, including its industry-leading TippingPoint® intrusion prevention system (IPS). [3Com Security Strategy Announcement].

Facts/Highlights:

3Com's new H3C SecPath F-Series and SecBlade VPN Firewalls are virtualized firewalls that combine state-of-the-art multi-core processors and the full feature set of the H3C Comware® operating system, which provides seamless integration of security devices and management in network architectures. This results in a high-performance, high-availability solution that can be managed from the Intelligent Management Center (IMC) console, reducing administrative and deployment overhead.

Key performance metrics:


The H3C SecPath family of stand-alone appliances offers scalable firewall performance from the core to the edge ranging from 200 Mbps to 40 Gbps. The high-end SecPath F5000-A5 modular security chassis offers line-rate protection for multiple 10 Gigabit Ethernet connections. At equivalent performance, the F5000-A5 firewall consumes half the space and one-fifth the power of the leading competitor, further reducing costs.


The H3C SecBlade modules are designed for the H3C Switch 9500E and H3C Switch 7500 E Ethernet chassis, plus the H3C Switch 5820 flexible stackable family, and offer 6.5 Gbps to 8 Gbps of firewall performance per blade. H3C SecBlade modules enable comprehensive security solutions for customers looking to maximize availability and serviceability in their networks, while minimizing the TCO.

3Com's new H3C SecPath F-Series and SecBlade VPN Firewalls will deliver support for real-time business-critical applications such as VoIP, video and collaboration applications. Key features include the ability to:


Provide enhanced stateful packet inspection firewall filtering. This allows network and security administrators to control traffic down to the individual IP address and have fine-grain control of all security services to efficiently implement desired security policies.


Create multiple zones and separate firewall instances on the same device ("virtual firewalls"). This allows for more granular security policies than traditional firewall devices, and traffic can be zoned among wired/wireless networks, employee/guest LANs or other network segmentation strategies. This greatly simplifies security deployments and contributes significantly to lowering TCO.


Look inside encrypted IPsec VPN tunnels for attacks. This prevents the propagation of exploits between sites and provides protection from risks that can develop when laptop users terminate VPN connections outside of the office.


Prioritize traffic based on policies. This ensures quality of service (QoS) for business-critical applications and appropriate performance for all applications.


Block specific traffic such as Active-X and certain email attachment types, helping ensure high risk traffic is kept off the network.

Pricing/Availability:

All of the products in the H3C SecPath F-Series are available today. The H3C SecBlade VPN Firewall modules are available today for the 7500E chassis and the 5820 and 9500E chassis are scheduled from release in Q4 calendar 2009.

The SecPath F1000 series starts at under $10,000, and the F5000-A5 starts at under $100,000. The SecBlade VPN Firewall modules start at under $25,000.

Supporting Quotes:

"With the launch of our H3C SecPath solutions, 3Com delivers the maximum security protection required to protect today's large, global enterprises from the core to the edge of the network, while continuing to offer a price-performance advantage," said Saar Gillai, 3Com senior vice president, worldwide products and solutions. "Our no compromise approach to integrating security and networking will enable businesses to build a Secure Network Fabric, ultimately protecting every point of the network from today's sophisticated zero-day attacks."

About 3Com Corporation

3Com Corporation is a $1.3 billion global enterprise networking solutions provider that sets a new price/performance standard for customers. 3Com has three global brands-H3C, 3Com, and TippingPoint-that offer high-performance networking and security solutions to enterprises large and small. The H3C enterprise networking portfolio-a market leader in China-includes products that span from the data center to the edge of the network, while TippingPoint network-based intrusion prevention systems and network access control solutions deliver in-depth, no-compromise application, infrastructure and performance protection.

Copyright © 2009 3Com Corporation. 3Com, the 3Com logo, H3C, and TippingPoint are registered trademarks of 3Com Corporation or its wholly owned subsidiaries in various countries throughout the world. All other company and product names may be trademarks of their respective holders.

More from Agricultural & Farming Products