Firewall Products connect thousands of machine endpoints.
Press Release Summary: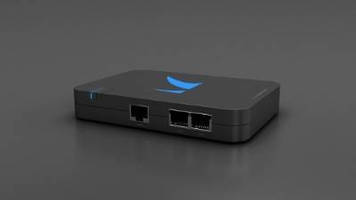 With NextGen Firewall S-Series, customers can enforce proper access privileges, secure and centrally manage all communications, and roll out thousands of devices in remote locations. Series includes NextGen Firewall Secure Connector 1 (SC1), which provides firewalling, Wi-Fi, and full VPN connectivity. Consisting of virtual gateway, NextGen Secure Access Concentrator optimizes network traffic flow and centrally applies next-generation security functionality to deployed SC1 appliances.
---
Original Press Release:

Barracuda Expands NextGen Firewall Product Line to Empower Customers to Securely Connect Thousands of Machine Endpoints



New Barracuda NextGen Firewall S-Series Provides Simplified and Affordable Way to Enable New 'Internet of Things' Applications and Deployments



CAMPBELL, Calif., – Barracuda Networks, Inc. (NYSE:CUDA) -



Highlights:



--  Barracuda expanded its NextGen Firewall product family with the new Barracuda NextGen Firewall S-Series, which is designed to empower customers to securely connect thousands of machine endpoints, enabling new 'Internet of Things' applications and deployments.

--  The Barracuda NextGen Firewall S-Series provides customers powerful functionality and an easy and affordable way to centrally manage highly distributed and hybrid networks, especially those with a large number of remote devices or kiosks such as ATM machines or remote offices.

--  The Barracuda NextGen Firewall S-Series helps customers enforce proper access privileges, secure and centrally manage all communications, and quickly roll out thousands of devices to untrained staff in remote locations. The Barracuda NextGen Firewall Secure Connector 1 (SC1) appliance includes firewalling, Wi-Fi, and full VPN connectivity.

--  The Barracuda NextGen Secure Access Concentrator (SAC) is a virtual gateway - able to run in both Microsoft Azure environments and private clouds - to optimize traffic flow and centrally apply next-generation firewall functionality to deployed Barracuda NextGen Firewall SC1 appliances.



Barracuda today announced it has expanded its next-generation firewall product family with the addition of the new Barracuda NextGen Firewall S-Series, which is designed to empower customers to connect thousands of machine endpoints, such as ATM machines or other remote devices, enabling new 'Internet of Things' applications and deployments. Barracuda announced immediate availability of two new products in the S-Series: the Barracuda NextGen Firewall Secure Connector 1 (SC1) and the Barracuda NextGen Secure Access Concentrator (SAC). The Barracuda NextGen SC1 is a small appliance that includes firewalling, Wi-Fi, and full VPN connectivity. The Barracuda NextGen SAC is a virtual gateway - capable of running in Microsoft Azure environments or in private clouds - to optimize network traffic flow and centrally apply next-generation security functionality to deployed SC1 appliances. The Barracuda NextGen Firewall S-Series helps customers enforce proper access privileges, secure and centrally manage all communications, and quickly roll out thousands of devices to untrained staff in remote locations.



"The 'Internet of Things' has given critical awareness to the fundamental need to protect individual devices and endpoints connected to a network," said Klaus Gheri, VP Network Security, Barracuda. "Next-generation firewall appliances typically deployed in smaller networks can be very complex and expensive for organizations with hundreds or even thousands of remote kiosks, such as banks with ATMs and energy providers with wind power stations. The Barracuda NextGen Firewall S-Series empowers customers to massively scale thousands of connected devices with powerful technology that is easy to use and affordable. The Barracuda NextGen Firewall S-Series launch further underscores Barracuda's aim to help customers optimize network traffic and better regulate application usage in highly distributed and hybrid environments."



The Barracuda NextGen Firewall S-Series provides organizations with greater flexibility to securely connect highly distributed networks, and includes the same advanced security functionality such as Application Control, Anti-Virus, IPS, and URL filtering well known with the Barracuda NextGen Firewall F- and Barracuda NextGen Firewall X-Series products. Additional highlights include:



--  Template-based Management - New template-based editor, SCA Editor, can be used to create templates at various organizational levels. Once a template is changed, all SC1 appliances linked to this template are automatically updated within seconds.

--  Automatic Network Setup - Administrators can use the Automatic Network Setup feature to define a single, large network that is automatically partitioned into smaller subnets, which then are automatically assigned to the SC1 appliances. Then, Barracuda NextGen SACs are updated with all needed routing paths.

--  Quick Deployments - SC1 appliances can be shipped directly to the intended remote location without the need for specialized IT personnel to be present onsite. The central IT department can quickly create a configuration file via the Barracuda NextGen Control Center through the configuration wizard included.

--  Easily Scales - The encrypted connection between the SC1 appliance and the SAC is established with Barracuda's proprietary, enhanced IPsec protocol TINA, which can maintain an encrypted connection to thousands of remote SC1 appliances while literally dozens of Remote Access Connectors can be controlled remotely by the Barracuda NextGen Control Center.



Pricing and Availability

Barracuda NextGen Firewall Secure Connector 1 (SC1) appliance is available immediately and starts at list price $299 USD for the appliance and list price of $49 USD for Energize Updates per year. An optional Instant Replacement service featuring priority replacement of failed hardware and complimentary refresh of four-year old hardware units is available starting at list price of $49 USD per year.



Barracuda NextGen Firewall Secure Access Concentrator (SAC) virtual appliance is available immediately and starts at list price $999 USD and list price of $179 USD for Energize Updates per year.



International pricing and availability vary by region.



To use the Barracuda NextGen Firewall S-Series products, a Barracuda NextGen Control Center is required. For more information about Barracuda NextGen Firewalls, please visit cuda.co/ngfw.



Resources

Barracuda NextGen Firewall S-series product page: cuda.co/s-series

Barracuda NextGen Firewall F-series product page: cuda.co/ngfwf

Barracuda NextGen Firewall X-series product page: cuda.co/ngfwx



About Barracuda Networks, Inc. (NYSE: CUDA)

Barracuda (NYSE: CUDA) simplifies IT with cloud-enabled solutions that empower customers to protect their networks, applications, and data, regardless of where they reside. These powerful, easy-to-use and affordable solutions are trusted by more than 150,000 organizations worldwide and are delivered in appliance, virtual appliance, cloud and hybrid deployments. Barracuda's customer-centric business model focuses on delivering high-value, subscription-based IT solutions that provide end-to-end network and data security. For additional information, please visit barracuda.com.



Contacts:



Jonelle Elam            

Barracuda Networks, Inc.

408-342-6415            

jelam@barracuda.com     



Jesse Kimbrel

Barracuda Networks, Inc.

408-342-5683

jkimbrel@barracuda.com



Web Site: https://www.barracuda.com







More from Software