Firestop Gasket eliminates caulking process.
Press Release Summary: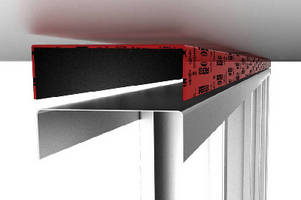 Offering 1-step solution, Series TTG SpeedFlex® Track Top Gasket provides fire, smoke, and acoustical ratings for head-of-wall joints between gypsum walls and flat concrete floor slabs. Because it is installed at same time as top track, intumescent firestop cover eliminates caulking process and need for second inspection. Gasket is UL classified up to 2 hours, provides acoustical values up to 56 STC in rated and non-rated wall construction, and has received L-rating of less than 1 cfm/Lin.
---
Original Press Release:

New One-Step Solution for Fire, Smoke, and Acoustical Ratings Available from Specified Technologies Inc.



STI's SpeedFlex® Track Top Gasket Eliminates Caulking of Fire Rated Top-of-Wall Joints



SOMERVILLE, N.J., -- Specified Technologies Inc. (STI) announced their new Series TTG SpeedFlex(®) Track Top Gasket, a one-step solution for providing fire, smoke and acoustical ratings for head-of-wall joints between gypsum walls and flat concrete floor slabs.  A revolution in both design and ease of installation, SpeedFlex(®) Track Top Gasket (TTG) is a unique patent-pending intumescent firestop cover for ceiling tracks that eliminates not only the second installation stage but the hassle of waiting for a second inspection.



"SpeedFlex TTG eliminates the labor-intensive caulking of fire-rated top-of-wall joints," explained Ray Bruno, Vice President, Sales and Marketing at STI. "With SpeedFlex TTG there are no secondary trips up the ladder or caulking crews on scissor lifts, which can be costly. And, because it is installed at the same time as the top track, SpeedFlex TTG eliminates the entire firestop caulking process.  Just a simple peel and stick, then shoot in with the track and you are done! The wall is effectively sealed against fire, smoke and sound transmission during the track installation process."



SpeedFlex TTG's one-step process eliminates the cost of a second inspection.  "Because firestop is done concurrently with the track installation, firestop inspections can be done at the same time the framing inspection is being performed," continued Bruno.  "This eliminates the time and labor hassles of waiting for a second inspection. Bidding is simplified and labor/installation variances are virtually eliminated.  More importantly, since SpeedFlex TTG is a factory-manufactured, factory-metered dose firestop product, there are virtually no workmanship issues to complicate or derail inspections."



Compatible with most common track sizes, SpeedFlex TTG firestop gasket is UL classified up to 2 hours for typical fire rated walls in flat slab applications.  It provides the required acoustical values (up to 56 STC) in both rated and non-rated wall construction and has received an L-rating of less than 1 CFM/Lin. Ft. for use in smoke barrier construction. SpeedFlex TTG also provides up to 100% movement. 



SpeedFlex TTG comes in lightweight, easy-to-handle rolls that are easy to cut with a scissors or a sharp knife.  There is no waste.  Just use as needed.  The gasket's compact packaging makes it easy to store and handle.  It is water resistant and has an unlimited shelf life. In addition to its easily identifiable red color, the gasket's prominent UL labeling makes inspection and verification fast and simple. 



For additional information on the SpeedFlex® Track Top Gasket, or other Specified Technologies products, visit the STI website at www.stifirestop.com call (800) 992-1180, or Email.  For engineering assistance, call (800) 992-1180, extension 2001.



About Specified Technologies Inc. (STI)

Headquartered in Somerville, New Jersey, STI is an industry leader solely committed to the development of innovative, reliable firestopping solutions. Marketed under the EZ-Path(®), SpecSeal(®) , and eBMP(TM) brands, the STI line offers over 1200 UL(®) Classified systems that assure high quality, high performance, and highly cost effective firestopping solutions.



Contact:  Ray Bruno, Specified Technologies Inc., 210 Evans Way, Somerville NJ 08876 USA.

P: 800.992.1180, F: 908.526.9623, Email

More from Thermal & Heating Equipment