Firefighters/EMS Personnel Consider Body Armor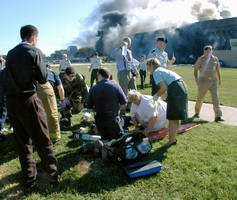 (www.engardebodyarmor.com) – The evening of January 6th turned out to be far more eventful for Fire Station #20 on West 25th in Cleveland, Ohio, than any of those on duty that night may have anticipated.  Around 8:30 pm, just after the crew returned from a call, an unidentified assailant fired several shots into the fire station blowing out the window of a fire truck and narrowly missing a firefighter. 



In a separate incident this month, Kentucky State Police arrested Vance Miller, 44, and David Lefevers, 37,  in Bell County, Kentucky, after a shot was fired at volunteer firefighters. The pair were charged with first-degree wanton endangerment, according to the Harlan state police post.



Emergency personnel in Memphis, TN, have filed numerous reports over the years of people shooting at fire trucks and emergency personnel en route to rescue calls.  Almost every department anywhere in the United States has a story about being confronted by armed homeowners when they approached a home at night, particularly when the call address was uncertain or incorrectly communicated by 911 callers. 



Though his department doesn't have the budget to issue body armor, Ricky Kidd, Deputy Chief of the Garland Fire Department in rural Tennessee, says he understands why some departments would consider the move.  "Every time you approach an uncertain situation at night, it's always in the back of your mind that someone might be armed."



In most cases the challenge to first responders is accidental.  Homeowners awakened suddenly from a sound sleep may not be exercising a great deal of tactical awareness and orienting to the situation may take a few minutes.  In the vast majority of cases the situation is resolved successfully but situations can be tense and accidents happen. 



In cases where a threat is known, law enforcement goes in to secure the scene before first responders are allowed to access the area.  Unfortunately routine calls will frequently not require law enforcement presence and tensions can escalate before law enforcement can make the scene. 



While it seems strange that emergency personnel trying to help people would have to face such threats, it is an unfortunate modern reality prompting some departments to consider issuing body armor to first responders.  The trend of first responders considering body armor is also part of upgrading the response capabilities of personnel who may have to respond to casualties in the midst of a terrorist attack. 



Threats from potential attacks are why some European nations are supplying products like the load-bearing EnGarde Puma (http://www.engardebodyarmor.com/specialist-body-armor.htm) or Point Blank EMS Ballistic Vest as an upgrade for the normal vests that EMS and first responders normally wear.  The upgrade adds only a little additional weight while increasing the level of protection for first responders who may find themselves responding to civilian casualties during incidents. 



When analyzed from an objective standpoint it's worth the effort and small expense to increase the level of protection for ambulance crews and first responders.  In some countries that upgrade is less optional than others but the clear conclusion is that the cost and additional weight are minimal and knowing our first responders are protected from more serious threats is inexpensive peace of mind.



More from Sensors, Monitors & Transducers