Fire Safe Fusible Link Valve Assembly has received Factory Mutual approval.
Press Release Summary: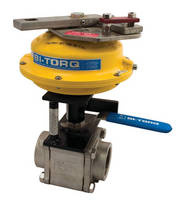 BI-TORQ® Valve Automation fire safe fusible link valve assembly allows factories to meet facility wide safety certifications by preventing the spread of fire. Flammable liquids or gasses will be contained once API 607 fire-safe certified valve automatically closes based on thermal release of a fusible link. Torque outputs range from 55-21,000 and assemblies can be used with fire safe ball or butterfly valves from ½ through 24 in. line sizes. Valve seat options include TFE®, RTFE®, TFM, PEEK and Delrin.
---
Original Press Release:

Fire Safe Fusible Link Shut-Off Valves Receive Factory Mutual Approval



BI-TORQ® Valve Automation's fusible link shut-off valve assemblies used in systems requiring automatic shut-off in case of a fire have received Factory Mutual (FM) approval. These state-of-the-art assemblies prevent the spread of fire by containing flammable liquids or gasses once the API 607 (American Petroleum Institute) fire-safe certified valve automatically closes based on thermal release of a fusible link.

FM approval means that BI-TORQ® Valve Automation fire safe fusible link valve assemblies can help reduce insurance costs and allow factories to meet facility-wide safety certifications. With torque outputs ranging from 55 to 21,000, FM-approved fusible link assemblies can be used with fire safe ball or butterfly valves from ½" through 24" line sizes. BI-TORQ® Valve Automation's unique design allows for manual operation of most units even when the unit is armed, reducing the need for secondary valves.

API 607 fire safe approved valves can be customer-specified or provided by BI-TORQ® Valve Automation in carbon or stainless steel construction with NPT, socket weld or 150# ANSI flanged end connections. With valve seat choices in TFE®, RTFE®, TFM, PEEK and Delrin, BI-TORQ® Valve Automation's fire safe valves are suitable for a wide variety of industries. Applications for these automatic shut-off assemblies include tank farms, petrochem, airport and truck refueling stations, paint and toxic chemicals, and biofuel operations. More information on this product is available at http://www.bitorq.com/fusible.html.

BI-TORQ® provides full service valve automation, including quarter-turn pneumatic and electric actuators; ball valves in SS, WCB/SS, brass, bronze, PVC, and CPVC; butterfly valves from 2"-24"; and automation accessories including limit switches, positioners, solenoids and customized mounting assemblies. For more information on FM-approved fusible link assemblies or other BI-TORQ Valve Automation products, contact David Marut at dmarut@bitorq.com or 630-208-9343

More from Cleaning Products & Equipment