Fire-Rated Pass-Through Chambers from Terra Universal, now with UL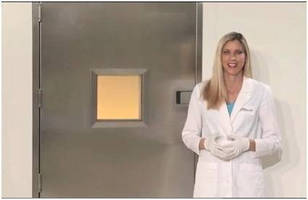 Fullerton, CA — Terra Universal, the leader in modular cleanroom designs, announces UL rating ("10B label") for their 304 stainless steel fire-rated pass-throughs. They are designed for installation in a fire-rated cleanroom or laboratory wall, and feature a viewing window for greater visibility of contents.



The heavy-duty, double-wall door construction prevents chamber misalignment and door damage when operators apply excessive force to an interlocked door.  The lock helps protect chamber contents against cross-contamination: only one of the self-closing doors can be open at a time.



Also available with electropolishing, the chambers have continuous seam welds to ensure a clean environment which is easy to sterilize. The UL rating is for 1.5 hours in walls (maximum temperature rise of temperatures to 450 degrees F in 30 minutes).



Terra Universal has over 35-years of experience manufacturing modular cleanrooms and other critical environment solutions. For more information about Fire-Rates Pass-Through Chambers, visit http://www.terrauniversal.com/cleanroom-passthroughs/fire-rated-pass-throughs.php.





More from Computer Hardware & Peripherals